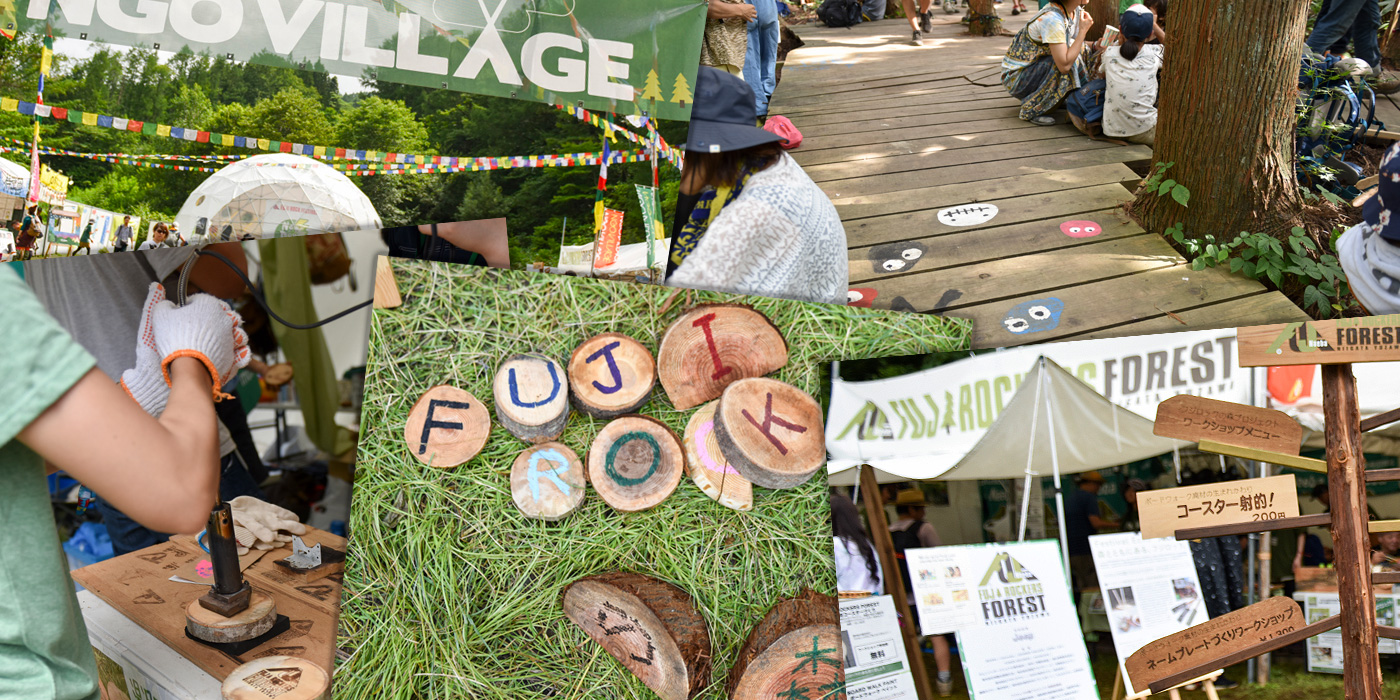 2021.05.07
Festival Echo Fuji Rock, Working With Forests
Fuji Rock Festival is held amidst the forests of Naeba. Listening to music while surrounded by the green forests is an extraordinary experience. Fuji Rock aims to take care of the beauty year round rather then just the one period each summer. Decreasing the amount of waste the festival produces and taking care of the forest along with festival audience is just one of the many things the festival does to support the environment.
FUJI ROCK FOREST PROJECT 2021

Fuji Rock Festival turns the respect for the forests surrounding the venue into action to protect them alongside Niigata prefecture, the towns of Yuzawa and Naeba, and the many supporters who come to Fuji Rock in the Fuji Rock Forest Project.
Disposable chopsticks created from the forests surrounding the festival

Chopsticks made from cedar trees thinned from the forests surrounding the festival venue are made available at the festival.
"FUJI ROCK PAPER" made using trees cut during thinning of forests

With cooperation from the Chuetsu Pulp & Paper Company, paper is made using trees felled during thinning of the forests surrounding the festival venue for use and sale at the festival.
Enjoy the forest at the "BOARDWALK"

Spanning a distance of 1.4km in the festival is a boardwalk made of lumber from the surrounding forests by festival volunteers and elevated to protect the forest floor is barrier free boardwalk.
NEW POWER GEAR

「Reduce Global Warming Impact by Reducing CO2!」
Japan has pledged to reduce emissions by 46% (compared to 2013) by the year 2030. That means that not only the government and corporations but each of us need to take action. Let's reduce the amount of energy we use for the festival!
The festival is working to reduce CO2 emissions in part by using recycled tempura oil as bio-diesel to power and solar panels.
The festival has installed a "clean energy generator experience".
Garbage = Resource

「Recycle Fuji's Garbage at Fuji Rock!」
The festival is working with the NPO, iPledge, towards making society one that regards "Garbage = Resource". We work to recycle as much of the garbage at the festival as possible.

NGO Village

「Support NGO's working to make society a better place!」
The festival has a "NGO Village" where organizations working for global environmental issues, forest protection, and world peace. The festival is providing a place where audience members can be informed about issues facing the world today.