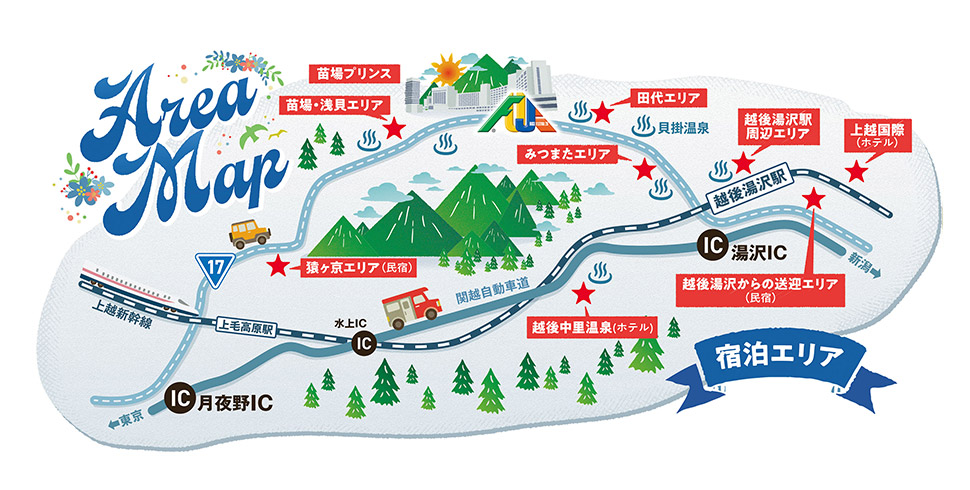 Car
Perfect for groups or people with lots of baggage!
Listen to artists you plan to see at the festival with friends and family! Start your Fuji Rock in the car on the way up to Naeba! Sleeping in vehicle is permitted as long as you have a valid parking ticket! (Please turn engine off.)
Access Routes
Via Kan-etsu Expressway Tsukiyono IC & Route 17 (33km)
Tsukiyono IC is convenient for those with 3 Day Parking Tickets (S and A parking areas).
Via Kan-etsu Expressway Yuzawa IC & Route 17 (21km)
Yuzawa IC is convenient for those with 1 Day Parking Tickets.
Parking
3 Day Parking Ticket (S Parking Area):
No. 1 Festival Parking Area
3 Day Parking Ticket (A Parking Area):
Parking area within walking distance of festival
1Day Parking Ticket:
Outer Parking Areas (Shuttle bus service to/from festival free of charge)
Specific parking area for 3 Day Parking Ticket (A Parking Area) and 1 Day Parking Ticket will be assigned by festival.
Please Note
Please note that parking tickets require the purchase of 2 or more festival entry tickets. Sole purchase of parking tickets are not available and parking tickets cannot be purchased after the purchase of festival tickets.
Official Tour Bus
Perfect for first time Fuji Rockers!
Sort out your travel, lodging, and tickets all at once! Get on the bus and next stop is the festival with no need for shuttle busses or changing trains. Some plans are less expensive than taking the Shinkansen.
Take advantage of courior services just for bus users and travel light to Naeba.
FRF Official Tour Center
Choose from over 1,500 different plans including tour bus packages available departing from 19 locations around Japan, lodging options near the festival, family friendly lodging, and explusive limited tour packages.
Overnight busses available for those who are only spending one day at the festival but don't want to be rushed.
Exclusive Services for Tour Bus Users
Take advantage of exclusive wristband exchange booths and courior desks just for Tour Bus users all located at the festival bus terminal.
The Pyramid Garden, located 1 minute from the festival bus terminal is a flat camp site just for Tour Bus users.
Tour Bus users aged 22 and younger can use the main camp site for free! (No camp site ticket needed.)
Round trip Tour Bus users receive a ¥1,000 coupon for Naeba Shokudo!
Please Note
Number of bus seats and lodging are limited.
Shinkansen
Great for those who want to make the most of their time at the festival!
Travel by Joetsu Shinkansen from Tokyo Station to Echigoyuzawa Station in 90 minutes!
Choose from many departure times to match your schedule and use the courior service to travel to Naeba straight after work!
Access Routes
Disembark at JR East Echigoyuzawa Station
Shuttle bus from Echigoyuzawa Station to festival (approx. 40 minutes)
Regular train lines such as the Joetsu Line and HokuEtsu Express Hoku Hoku Line can be used in addition to the Shinkansen
Shuttle Bus Fare: ¥1,000 from Echigoyuzawa Station to festival (return free of charge)
Please Note
Last train departs Echigoyuzawa Station prior to end of festival program.
Shuttle Bus
Shuttle busses will operate between Echigoyuzawa Station and the festival and the outer parking areas and the festival throughout the festival period.
Those lodging in the Tashiro/Mitsumata area can use the shuttle bus services.
Shuttle Bus Fare, etc.
Bus fare for those boarding the shuttle bus from JR Echigoyuzawa Station is ¥1,000. Return trip is free of charge.
The shuttle bus is free of charge for those boarding the shuttle bus from the outer parking areas.
Please Note
Please be sure to note that there are no transportation options to Echigoyuzawa Station of the outer parking areas at times other than during the shuttle bus operating hours.
★Shuttle Bus operating hours will be announced on this website at a later date.
Transportation