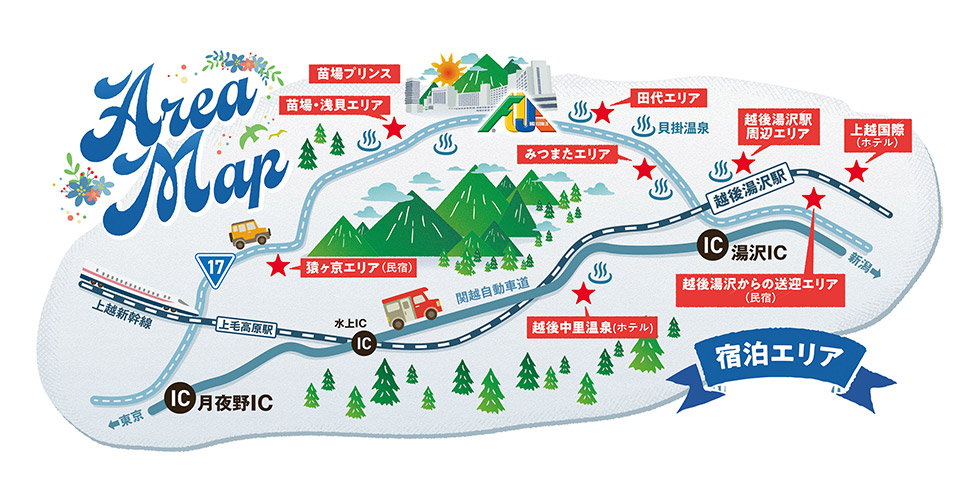 Getting There - For Those Residing in Japan
Car
Great for large groups and those with lots of gear!
Parking available within walking distance at the "Festival","Shirakaba" and "Asagai"parking areas and more parking is available nearby at th"Mitsumata" and "Tashiro" areas. Shuttle busses available for those parking at the Mitsumata and Tashiro areas.
| | |
| --- | --- |
| 33km from the Kan-Etsu Expressway Tsukiyono exit via Route 17 | Use the Tsukiyono Exit for "Festival", "Shirakaba" and "Asagai" parking areas. |
| 21km from the Kan-Etsu Expressway Yuzawa IC via Route 17 | Exit at the Yuzawa IC for for the "Mitsumata" and "Tashiro" parking areas. |
POINT!
Share and save! Take turns driving and save not only on money but energy too!
Caution
Parking Tickets available with the purchase of 2 or more General Admission Tickets only. Parking Tickets cannot be purchased singley at a later date.
Parking areas shall be designated depending on Parking Ticket type. Parking area will be assigned and cannot be chosen upon purchase.
Official Tour Packages
Great for first time festival goers!
Choose from over 2,000 package tours departing from 22 cities around Japan by train and bus, include admission tickets and lodging at the festival, and take advantage of discounts only available here.
*Official tours operate under the guidelines to prevent the spread of Covid-19 set for the travel industry and charter busses.
| | |
| --- | --- |
| Bus Plans | Travel straight to the festival on a bus with departures from 16 locations across Japan. Sets that include lodging or campsite tickets also available. |
| Shinkansen Plans | Sets including round trip Shinkansen tickets and General Admission tickets! |
| Other Discount Plans | Discount plans for those under 22 years of age, family discount plans and more! |
POINT!
Bus Tours travel directly to the festival! Take advantage of the exclusive wristband exchanges and baggage courior services available only to Bus Tour users!
Caution
Departure times are fixed so do not be late.
Official Tour Center Sales Schedule
First Term (Lottery): Bus & Lodging Plans for the following areas only.
First Round 【Naeba Prince Hotel】
"12:00 Fri Apr 16 ~ 23:59 Sun Apr 18 (Lottery winners to be announced Mon Apr 19)"
Second Round 【Naeba / Asagai Areas】 【Tashiro / Mitsumata Areas】 【Family Plans;(Angel Grandia Echigo Nakasato、Hotel Green Plaza Joetsu)】
"17:00 Mon Apr 19 ~ 11:00 Fri Apr 23 (Lottery winners to be announced Fri Apr 23)
Second Term (First Come First Served): All Available Plans
All Plans
【All remaining plans will be made available for purchase including bus tours, Pyramid Garden packages, Under22 Discount Plans, etc.】
Fri May 21 〜
Lodging / Tour Bus Cancellation Waiting List (Lottery)
Waiting list for cancellations of lodging and bus tours which are now listed as full will be opened.
First Round Lottery: Mon July 19 ~ Mon July 26 【Confirmation: Thurs July 29】
Second Round Lottery: Fri July 30 ~ Tue August 10 【Confirmation: All Times】
FRF Official Tour Center
Shinkansen Train
Great for those pressed for time!
Disembarke at JR East "Echigo-Yuzawa Station". Shuttle bus from Echigo-Yuzawa station to festival available. In addition to the Joetsu Shinkansen, the festival can be reached via the local Joetsu line and Hokuetsu Hoku Hoku train lines.
Disembarke at JR East Echigo-Yuzawa Station
Shuttle bus available between Echigo-Yuzawa Station and festival.
Cost for shuttle bus is ¥1,000 from Echigo-Yuzawa station to the festival. Return trip is free of charge.
POINT!
Go when you want! Choose from many departure times throughout the day.
Board the Shinkansen without a paper ticket with the Shinkansen eTicket!
《Shinkansen eTicket》
Make your reservation on your smart phone and board without having to get a paper ticket. No waiting in line and save time by traveling ticket-less.
Register with "Ekinet" for free and make your reservation on your phone or computer.

*Japanese language site.
Caution
Be careful of return train times if not staying at the festival overnight. The last train bound for Tokyo station departs before the last band plays at the festival!
Shuttle Bus
Multiple shuttles run between Echigo Yuzawa Station, parking facilities and the festival. Those staying in the Tashiro, Mitsumata areas can also use the shuttle buses.
Please pay 1,000yen at JR Echigo-Yuzawa Station for the shuttle bus. The return trip is free.
★ Information on first and last bus times will be posted here at a later date.
Transportation