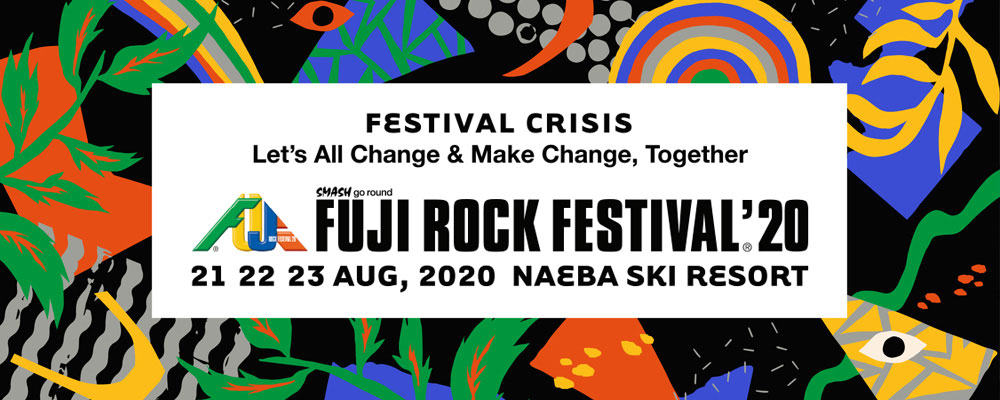 2020.01.31
Before Purchasing Tickets
Before Purchasing Tickets
〜 Improving Manners & Making Changes Together 〜
『FESTIVAL CRISIS 〜Let's All Change & Make Change, Together〜』
The Festival reserves the right to refuse entry to anyone who cannot follow the festival regulations or has bad festival manners.
Please note that the festival rules and regulations may change without prior notice at any time if deemed necessary.
Please also note that tickets will not be refunded after purchase. Please be sure to fully read and understand the festival rules and regulations before purchasing your tickets.
PROHIBITTED ITEMS
Cross type outdoor folding camp chairs (Helinox, etc.)
These types of folding chairs have been deemed dangerous as people carry them without folding and are a danger to others.
Umbrellas
The use of umbrellas is prohibitted in all areas of the festival including camp sites. They are a danger to other festival goers in low visibility and can be blown away in high winds cauzing a hazard.
Leisure sheets, parasols, and other items that block visibility or take large amounts of space.
《Items which are prohibitted》
・Blue sheeting or leisure sheets which take up more room then being used by the number of people.
・The use of tenting (outside of the camp site areas), parasols, sun shades, etc., and any other items that block the view of others is prohibitted.
These items cause congestion and are difficult to transport which means people tend to discard them becoming a hazard to others. (The saving of space is prohibitted throughout the festival.)
Sheeting, chairs, tents and other camp items which cannot be taken back with you.
Any and all sound recording devices.
Bottles and cans (carrying in coolers also prohibitted)
Fireworks and other explosives.
Any and all pets, items prohibitted by law and any other dangerous items are prohibitted at the festival.
Those who bring prohibitted items into the festival will be asked to remove them from the premises.
Please note that those who do not follow directions of festival staff will be ejected from the festival. Tickets will not be refunded in this case.
ACTIONS PROHIBITTED AT THE FESTIVAL
Smoking while walking, smoking in congested areas, smoking in non-smoking areas
《Non-Smoking Areas》
Areas directly in front of the stages / in front of the PA, lighting booths at each stage / Kids Land / entire Red Marquee area (including outside of the tent) / Blue Galaxy / Orange Cafe / Crystal Palace Tent / Stoned Circle / Cafe de Paris / Priority Tents
Actions which harm others
Moshing, diving and other dangerous behaviour including transporting folding chairs without folding them up or otherwise transporting luggage in congested areas.
Leaving trash behind
Garbage should always be sorted and disposed of in the proper receptacle. The festival is held in a area surrounded by lush nature and volunteers commit their time to sorting and recycling the garbage at the festival. The garbage recycled at the festival is used as toilet paper and garbage bags at the festival the next year.
Leaving chairs, sheeting, tents, etc., behind after the festival.
Leaving chairs or sheeting to save space.
Items left unattended for prolonged periods of time will be disposed of. Saving large areas of space using sheeting or luggage is prohibitted.
Sheeting being left to save space and hindering others from entering the area has increased in recent years. Please be sure to carry items such as sheeting or chairs with you at all times in order to allow others the chance to rest or use the space.
Use of chairs or sheeting in prohibitted areas
《Prohibitted Areas》
・Entire RED MARQUEE area (including outside of the tent).
・Directly in front of the stages and in front of the PA, sound booth at each stage.
・Be sure to follow the instructions of festival staff if told not to use sheeting or chairs in areas other than those listed above.
Video or sound recording of performing artists
Those who do not follow the directions of festival staff or cause harm to other festival goers will be forcibly ejected from the festival. Ticket(s) will not be refunded to those removed from the festival under any circumstances.
Fuji Rock Festival Rules & Regulations
hese rules and regulations are subject to change without notice. Please note that ticket refunds will not be made for such rule changes regardless of how prior notification is made or lack thereof.
The festival will not be cancelled due to inclement weather (excluding natural disasters). Please note that ticket refunds will not be made due to artist cancellation.
The festival is held in a natural setting. Beware of injuries from falling, hypothermia from low temperatures and also insect bites from bees, gnats and flees. Always look out for poisonous vegetation and wild animals and other natural hazards.
Please avoid excessive drinking. Those deemed to be drinking excessively or out of control may be ejected from the festival site.
Any dangerous behavior that may harm other people, such as moshing and diving, is prohibited. The festival is not responsible for injuries and accidents due to such acts. Such incidents shall to be solved between the parties involved.
Persons found to have entered the festival illegally will be reported to the police and will be put under the care of local police officials. The person will also be charged for compensation.
Please refrain from any behavior that can cause annoyance to local residents.
Due to local regulations, people under 18 years must return to their accommodation by 11pm.
The final train departing Echigo-Yuzawa Station leaves before the festival performance finishes. All public transportation is unavailable after the last performances on all days of the festival.
Be sure to acquire transportation and/or lodging yourself before coming to the festival. (Sleeping outdoors at, around, or near the festival or Echigo-Yuzawa Station is strictly prohibited. Also, those who have not acquired a parking pass in advance are prohibited from parking at the festival.) Please also note that parking passes and lodging packages available at the on-site festival tour center are limited.
Those found to be in possession of prohibited items will be asked to remove them from the festival grounds.
The production, the site and the artists are not responsible for accidents and thefts in and out of the festival site.
Those who do not follow directions of festival staff or cause harm to other festival goers will be forcibly removed from the festival. In the case that the festival deems the person to be malicious in their actions, the person will be banned from entering the festival in the future regardless of whether the person has purchased a ticket. Tickets will not be refunded in these circumstances.
You may bring cameras and/or video cameras into the site but it is strictly prohibited to record the artists. No sound recording equipment is allowed on the site. The use of selfie sticks are not permitted in congested areas, in front of the stages, and while moving between areas.
Agreement to the festival rules and restrictions is needed to purchase tickets. Please be sure to read and confirm all rules and regulations listed on the official website before purchasing tickets. Please note that purchase of festival tickets shall be deemed as agreement to all rules and regulations of the festival.
All information given when purchasing festival tickets will be held by the festival organizers.
Please be sure to review all cautions and restrictions before purchasing tickets to the festival.