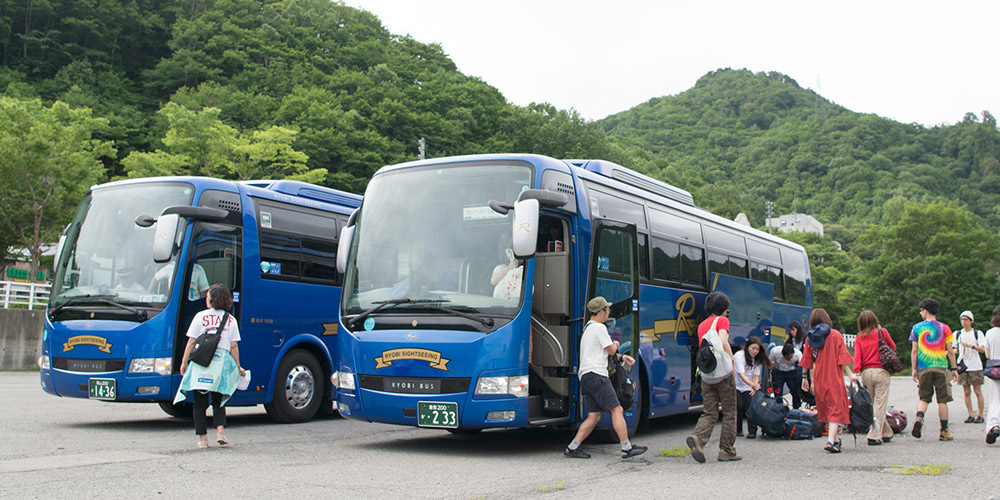 2020.04.03
ALL OFFICIAL TOUR TYPES NOW AVAILABLE FOR PURCHASE!
Now that the line up has been announced and you're getting ready for the festival, the next thing you want to sort out it getting to and from the festival and where to stay once you get there.
Take advantage of one of 2,000 different bus or Shinkansen tour packages that depart from 22 cities around Japan, packages that include transportation and lodging, discounted package tours and more. All types now available for purchase!
For Those Residing Overseas
Use of Official Tour Center not available for those residing overseas.
Overseas residents wishing to purchase a package tour should use the Fuji Rock Official Shop Gan-Ban services:https://ganban.net/?p=37584
Official Tour Second Term: First Come First Serve
Any remaining lodging after the First Term is finished will be made available on a first come first served basis during the Second Term.
Tickets for all available plans and areas including Tour Bus Campsite Pyramid Garden, Under 22 (Discount), will be made available for purchase during the Second Term. Festival Entry Tickets also available for purchase. (Those who purchase festival entry tickets along with an official tour will receive their wirstbands in advance by post.)
Bus Plan »
Travel directly to the festival with one of these tour bus plans departing from 16 cities across Japan.
【Round Trip Bus Tickets from below locations】
Kanto Region (Shinjuku, Ikebukuro, Tokyo, Haneda, Yokohama, Funabashi, Saitama Shintoshin, Hachioji )
Kansai Region (Kyoto, Osaka, Sannomiya)
Tokai / Chubu Region (Shizuoka, Nagoya)
Tohoku Region (Sendai)
Niigata (Niigata, Nagaoka)
Bus + Lodging / Rest Area Plan »
Discounted Official Tour Bus plans that include lodging or access to a rest area.
【Rest Areas Located in Naeba / Asagai Area Available from 3 Day Use】
Rest Areas are facilities located in local gymnasiums or music rooms. Use is segregated to men and women rooms.
Bus + Camping Plans »
Tour Bus sets that include use of the camping facilities at the festival. Besides the main camp area, sets for the exclusive Pyramid Garden camping area also available for bus ticket holders!
《Bus Plan Tips!!》

Those who go to the festival using one of the Official Bus Tours will be able to make use of a separate Wristband Exchange. Save time and money!
Separate courier service desk available for Official Tour Bus users! Send and recieve your luggage for easy travel to and from the festival.
Shinkansen Plans »
Set of round trip Shinkansen ticket (non-reserved seating) and festival entry ticket.
*No kids prices available.
《Shinkansen Plan Tip!!》

Separate lane for Shinkansen Plan users will be made avialable for use at Echigo Yuzawa Station. Avoid crowds and move smoothly thru the station to the shuttle bus.
Second Term Applications Guidelines
*Only Japanese Language Service Available.
Other Value Tour Center Plans
Under22 (Discount) Bus Tour »

People under 22 years old who purchase a bus tour tickets are able to use the campsite for free!
(*Campsite tickets are usually ¥4,000)
Also included is a 500 yen coupon to use at Naeba Shokudo!

Tour Bus User Exclusive Campsite 「PYRAMID GARDEN」 »

Located 1 minute from the tour bus stop – this exclusive campsite is a flat grassy area perfect for camping! Only available to bus users!
Chill atmosphere featuring decorations produced by Candle JUNE. Only 500 tents permitted in this exclusive campsite.
Contact Information
 Collaboration, Inc.
Email: fujirock@collaborationtours.com
TEL: 03-6861-6969 (Open weekdays 11am to 5pm.)