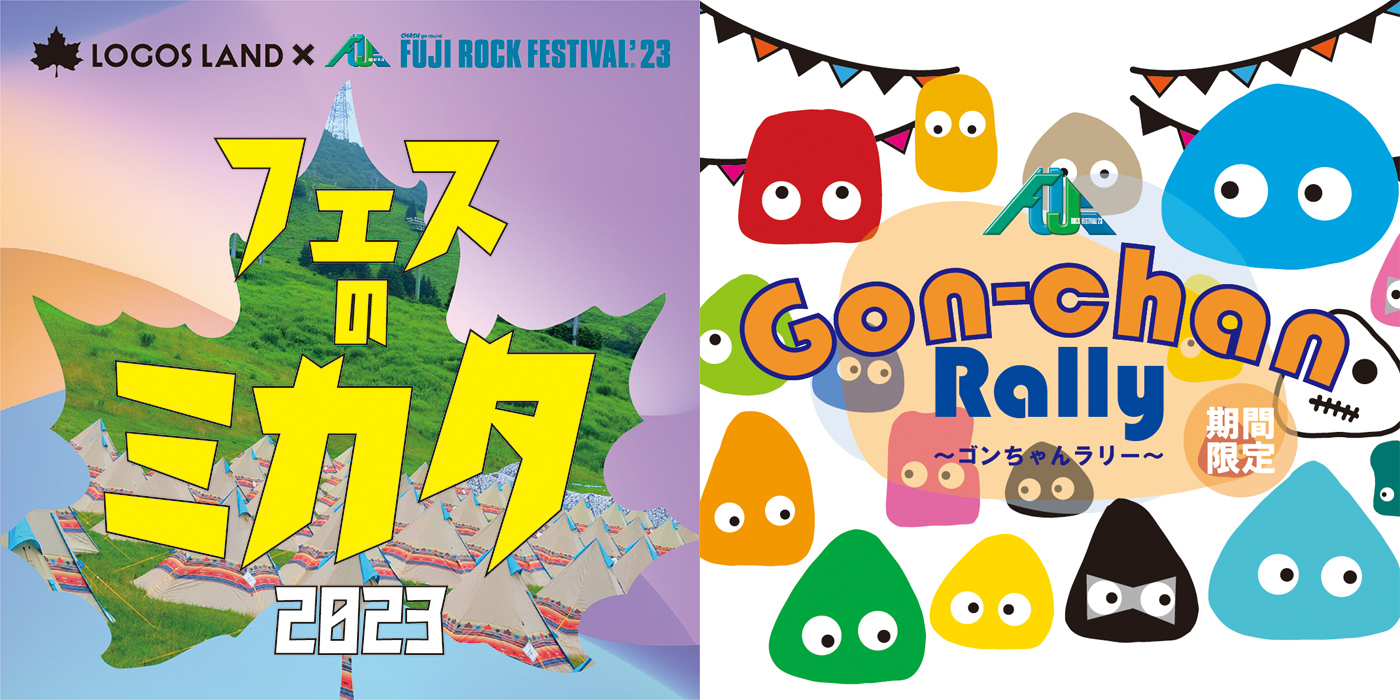 2023.04.07
GET A JUMP START ON FUJI ROCK AT LOGOS LAND EVENT!
LOGOS LAND × FUJI ROCK FESTIVAL '23 【FESTIVAL FRIEND 2023】 STARTING APRIL 15th!
Fuji Rock is teaming up with outdoor gear brand, LOGOS's, outdoor leisure facility, LOGOS LAND, for an event where people can get a taste of Fuji Rock ahead of the festival, "Festival Friend 2023"!
The event will feature exhibitions of camping at the festival, exclusive raffles, and family friendly content from Fuji Rock Festival. The event will also have experts about the festival on hand to offer tips and info about the festival to help you prepare!
FUJI ROCK DAYS event will also be held in Kansai at the end of June!
Get your Fuji on early at the Festival Friend 2023 event!
FESTIVAL FRIEND 2023
DATE
April 15th to July 31st, 2023
LOCATION
LOGOS LAND
Address: 24-4 Terada Okawahara, Joyo-shi, Kyoto
▸ logosland.jp
DETAILS
LOGOS × FUJI ROCK FESTIVAL'23
Special Exhibition

Exhibition display about camping at the festival featuring festival favorite, "Navajo Teepee 300" tent.
Exhibition featuring content from Fuji Rock covered by Logos' online magazine, "Monthly LOGOS" since 2013.

Gon-chan Raffle (Limited Time Only)

Find the Fuji Rock mascot, Gon-chan, hidden all around the area!
Find all the Gon-chan to receive a rare Gon-chan color pencil set!
Take part in the Gon-chan painting corner to make your very own one-of-a-kind Gon-chan!

Reception
Prime Inn Joyo front desk, Iris Inn Joyo front desk
Application Time
10:00〜16:00 (experience length: 10 to 30 minutes)
Participation Fee
¥550

LOGOS LAND LOGOS Shop
Summer Festival Support Team

During the Festival Friend 2023 event, "Festival Meisters" with identification badges will be on hand to help choose the best camping gear for the festival, give tips and advice about camping at the festival, and if you sign up in advance, they will show you how to set up the tent!
FUI ROCK DAYS @ LOGOS LAND
The popular festival pre-event, "FUJI ROCK DAYS", will be held at LOGOS LAND at the end of July!
Get information about the festival, win great prizes and more at this special event! Details coming soon!