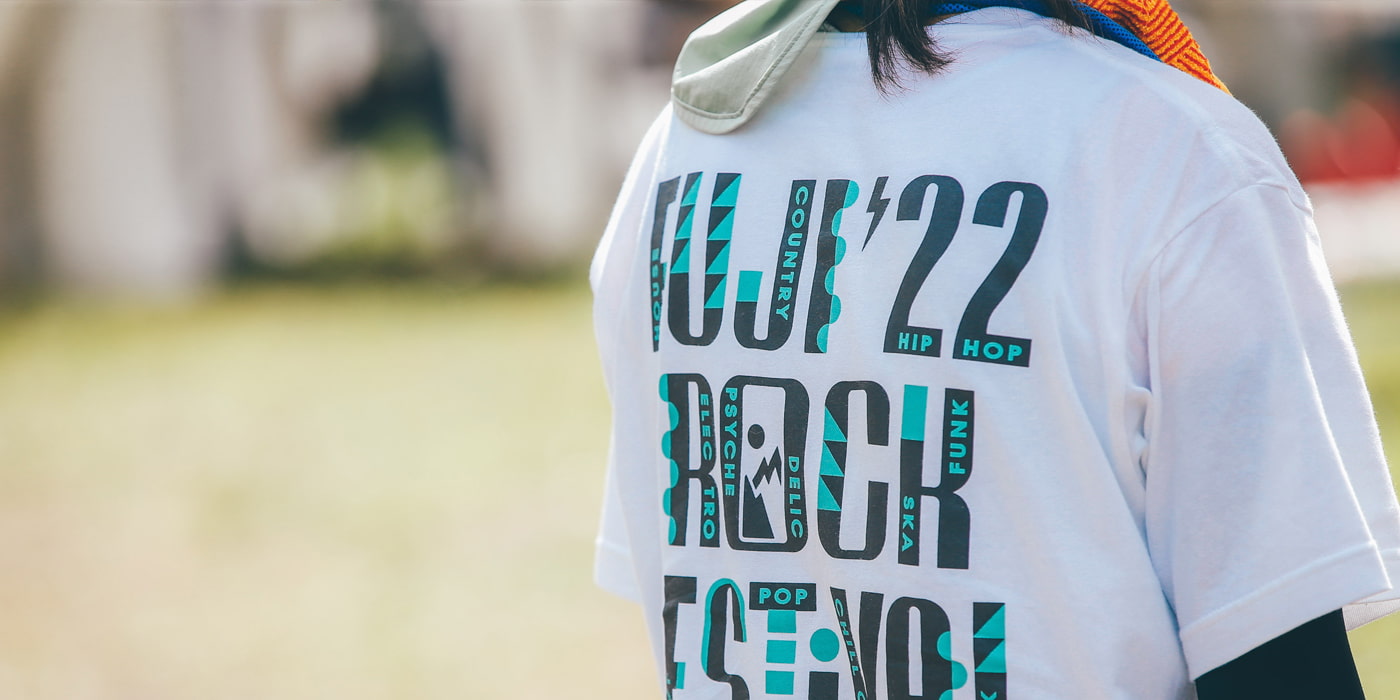 2023.05.12
New Merchandise Items Including Artist Collaborations Now Available!
T-shirts designed by performing artists, Travel Goods Set for first time festival goers and more now available!
Get a head start on this year's summer with limited edition Fuji Rock merchandise only available at the e+ shop.
Made to order items include not only the popular t-shirts and towels but also two sets of items perfect for first time festival goers! Get both and be prepared to have a great time at Fuji Rock!
Artist collaborations with TESTSET and SUPER BEAVER also available!
Application Period:Friday May 12th to Thursday May 25th
Delivery planned for end of July.
Only limited number of each item are available.
*Please check order site for more details.
FUJI ROCK '23 First Time Comfort Set (A) / Tiny Chair

Order now and get 30% off this set of three must-have items for Fuji Rock!

Set Includes
・FUJI ROCK Tiny Chair (Color: Khaki or Navy)
・FUJI ROCK '23 Simple Day Outdoor Travel Set
・FUJI ROCK GONCHAN×GAN-BAN BIG BAG

Price:¥9,800(tax incl.)

FUJI ROCK '23 First Time Comfort Set (B)

Order now and get 30% off this set of three must-have items for Fuji Rock!

Set Includes
・FUJI ROCK GONCHAN×GAN-BAN PONCHO (by kiu)
・FUJI ROCK '22×GAN-BAN Multi Pass Case PLUS (by CHUMS)
・FUJI ROCK Original Mess Tin & Sierra Cup Set

Price:¥9,800(tax incl.)
TESTSET x FUJI ROCK '23 Tee

Fuji Rock '23 and TESTSET collaboration t-shirt debuts as official festival merchandise item!

Color:BLACK
Sizes:S / M / L / XL
Price:¥4,000(tax incl.)

SUPER BEAVER x FUJI ROCK '23 Tee

Super Beaver, who are performing at this year's Fuji Rock, and the festival have teamed up for this collaborative t-shirt!

Color:BLACK
Sizes:S / M / L / XL
Price:¥4,000(tax incl.)

FUJI ROCK '23 ×GAN-BAN SNOOPY T-SHIRT

DANCE, DANCE, DANCE! Let loose with Snoopy! Kids sizes also available!

Color:WHITE / BLACK
Sizes:S / M / L / XL
Price:¥4,000(tax incl.)

FUJI ROCK '23 ×GAN-BAN SNOOPY T-SHIRT (KIDS)

DANCE, DANCE, DANCE! Let loose with Snoopy! Coordinate your style with the kids this summer at Fuji Rock!

Color:WHITE / BLACK
Sizes:100 / 120 / 140
Price:¥3,500(tax incl.)

FUJI ROCK '23 In The Mood Tee

「With gratitude for the music in our lives」
designed by Sayuri Nishikubo

Color:WHITE / BLACK
Sizes:S / M / L / XL / XXL
Price:¥4,000(tax incl.)

FUJI ROCK '23 LOW BIT LINE TEE

With thanks for being able to go to Fuji Rock again this year. Don't sweat the small stuff.
Designed by Kamikene (Hatos/Nigh.jp)

Color: WHITE
Sizes:S / M / L / XL
Price:¥3,500(tax incl.)

FUJI ROCK '23 Gan-chan Tee

Voted most popular on Twitter, this year's shirt features the yellow Gon-chan! Also available in adult sizes.

Color:WHITE
Sizes:100 / 120 / 140 / S / M / L / XL
Price:Adult:¥4,000(tax incl.)
Kids:¥3,800(tax incl.)

FUJI ROCK '23 Last Resort Fuji Rock Tee

Designed by Last Resort

Color:WHITE / NAVY
Sizes:S / M / L / XL
Price:¥4,000(tax incl.)

FUJI ROCK '23 Logo T-Shirt

This year's logo tee now available! Also available in XXL!

Color:WHITE / BLACK
Sizes:S / M / L / XL / XXL
Price:¥4,000(tax incl.)

FUJI ROCK '23 Soccer Tee

Featuring quick drying mesh inner for comfort in the summer outdoors.

Color:JAPAN BLUE / WHITE / BLACK
Sizes:S / M / L / XL
Price:¥3,850(tax incl.)

FUJI ROCK '23 Extraordinary Tee

Graphic t-shirt featuring the FRF'23 key visual, "Extraordinary".

Color:WHITE / BLACK
Sizes:S / M / L / XL
Price:¥4,000(tax incl.)

FUJI ROCK '23 Track Jacket

Combining the functionality of athleisure and style, the track jacket is perfect for the chilly nights at Naeba.

Color:NAVY
Sizes:S / M / L / XL
Price:¥11,000(tax incl.)

FUJI ROCK Tiny Chair (by LOGOS)

Perfect for use at Fuji Rock, this small sized chair is foldable for ease of carrying around the festival.
Foldable in one action and features convenient pocket on seat back. Comes with convenient carrying bag.

Color:KHAKI / NAVY
Sizes:Width 34×Depth 34×Height 48(cm)(Seat height: 25cm)
Weight:Approx. 1.2kg
Price:¥4,000(tax incl.)

FUJI ROCK '23 Shoelaces

What will we think of next!? Trade and match these limited edition festival shoelaces with friends or use as a set!

Color:Fluorescent Orange / Fluorescent Green / Blue / White
Sizes:Approx. 7×1300 (mm)
Price:¥500(tax incl.)

FUJI ROCK '23 Pouch

Pouch featuring this year's festival colors and designed to match any clothing. Fits one plastic bottle.

Color:Green & Blue / Orange & Blue
Sizes:H20×W2×D10(cm)
Price:¥3,850(tax incl.)

FUJI ROCK '23 BALL CAP

Simple yet stylish design features Fuji Rock logo on the bill.

Color:WHITE / OLIVE GREEN
Sizes:One-size-fits-all (w/ adjuster)
Price:¥3,650(tax incl.)

FUJI ROCK Multi Pass Case PLUS (by CHUMS)

Convenient case features 5 pockets including a clear pocket that fits a smartphone. Perfect for use at the festival and everyday!

Color:WHITE / CRAZY
Sizes:W13.5×H18.5(cm)
Price:¥4,000(tax incl.)

FUJI ROCK Festival Wallet (by CHUMS)

Features closable pocket, key pocket and key ring on front, card case and clear pocket on back. Carabiner for convenient attachment to bags or belts.

Color:WHITE / CRAZY
Sizes:W9×H13(cm)
Price:¥2,750(tax incl.)