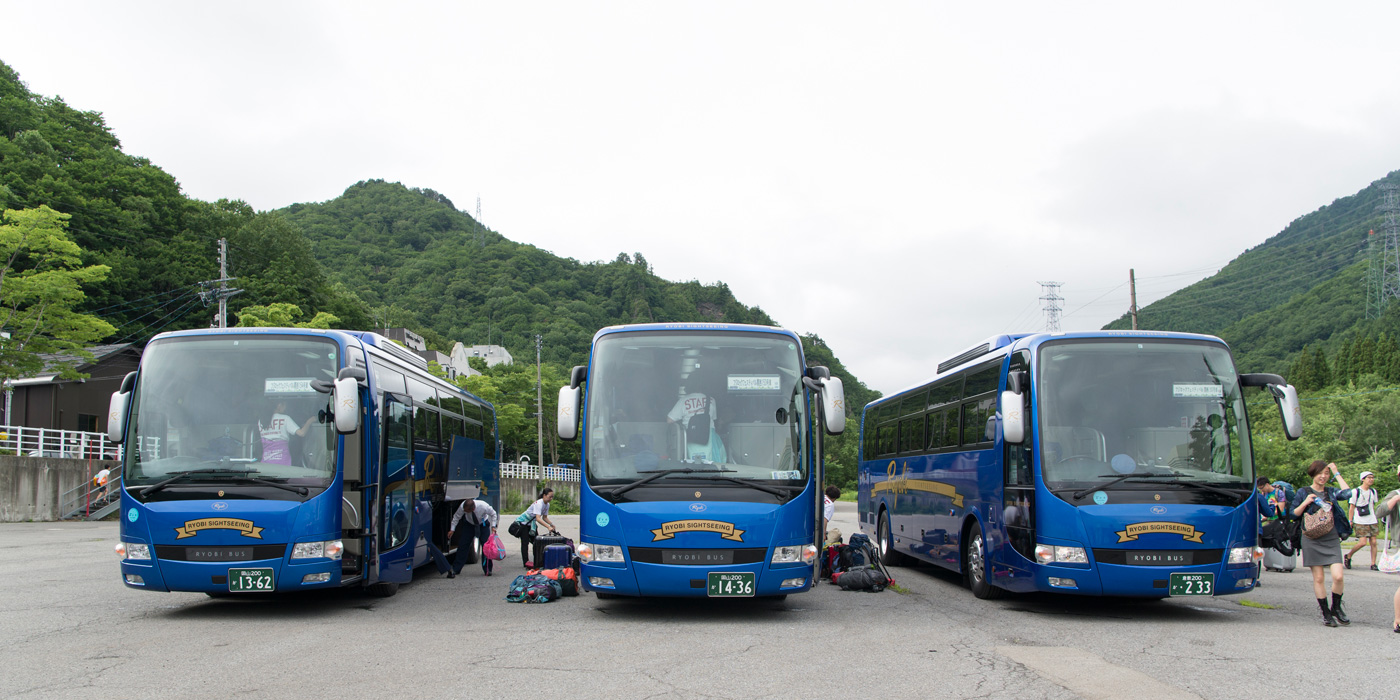 2021.05.21
APPLICATIONS ACCEPTED FOR ALL OFFICIAL TOURS NOW!
All remaining rooms for all plans are now available for all areas including bus plans departing from 22 cities around Japan, tours which include lodging and popular Pyramid Garden packages.
Be sure to get your festival ticket with your plan and receive your wristband in the mail ahead of arriving at the festival!
All New Shinkansen Plan

Designated Seating Ticket for Shinkansen (includes priority seating on shuttle bus)
New Jomo Kogen Station Course now available

New Lodging Areas and Plans Added

Minakami (hotel) and Echigo Nakasato (Minshuku) areas added to Minshuku areas.
1 Person 1 Room plans now available for Echigo Yuzawa, Ishiuchi Maruyama, Echigo Nakasato (Minshuku).
*All official tours follow guidelines to prevent the spread of COVID-19 set for the travel and bus industries.
General Sales (first come first serve) begins Friday May 21st
▸ Bus Plans
Bus plans departing from 16 cities across Japan arrive directly at the festival:
《Departing Cities》
Kanto(Shinjuku, Ikebukuro, Tokyo, Haneda, Yokohama, Funabashi, Saitama Shintoshin, Hachioji)
Kansai(Kyoto, Osaka, Sannomiya)
Tokai/Chubu(Shizuoka, Nagoya)
Tohoku(Sendai)
Niigata(Niigata, Nagaoka)
▸ Bus & Lodging Plans
Bus plans departing from the above cities with lodging included.
▸ Bus & Camping Plans
Set plans which include bus tickets and camp site tickets.
Normal campsite and also Pyramid Garden tickets available here.
Tips for Bus Plan Users
Bus plan users can exchange wristbands at bus plan users only wristband exchange located at Naeba bus terminal at festival.
Special courior desk set up for bus plan users for easy access to baggage sent from home.
▸ Shinkansen Plans
Coupon for ¥1,000 per person for use at any food stall within the festival included in round trip Shinkansen plans.
Does not include festival entry ticket. For those wishing to purchase festival entry tickets at the same time, please be sure to click option to include. *No discounted Shinkansen tickets available for children.
《Priority Lane for Shinkansen Users》
One time use of priority boarding of shuttle bus from Echigo Yuzawa avialable for those purchasing a Shinkansen Plan.
Tour Center Discount Plans
▸ Under22(Discount)Bus Tour
Those aged under 22 and who purchase this bus plan can use the campsite for free!
(*Campsite tickets normallly cost ¥4,000)
Two 500 yen coupon for use at Naeba Shokudo also included in round trip!
▸ Exclusive Bus Tour Campsite 「PYRAMID GARDEN」
Arrive 1 minute from your campsite limited to users of the Pyramid Garden Bus Plan.
Candle JUNE produces the atmosphere of this popular area at the festival. Limited to 500 tents.