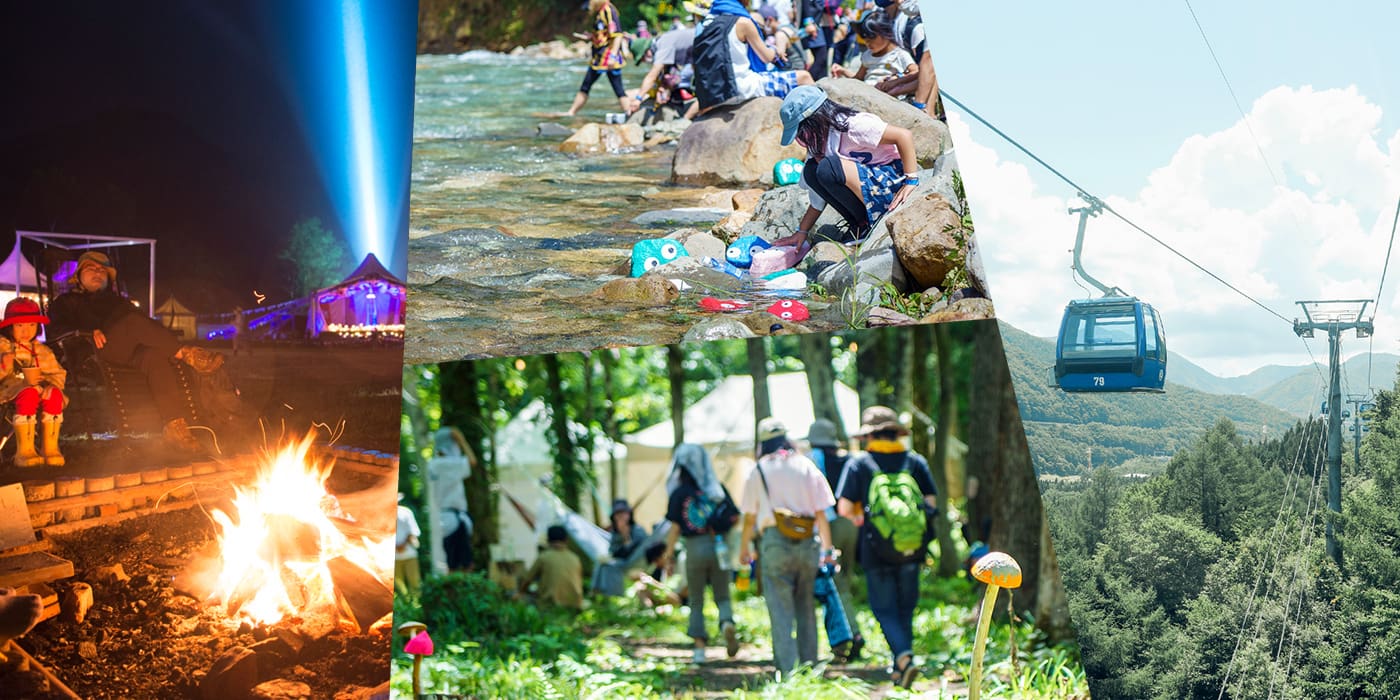 2023.05.26
Fun for the whole family at Fuji Rock Festival!
10 eco-friendly experiences at Fuji Rock Festival
<Vol. 1>
The beautiful natural setting of Fuji Rock is one of the many things that make this festival one of the top outdoor festivals in the world.
This series will focus on spots in the festival where you can immerse yourself in the beauty of Naeba!
Volume 1: "Experience Nature to Your Heart's Content"。
Immerse yourself in the dynamic natural environment of the festival at these spots in Naeba…
Recently, Fuji Rock is becoming popular among not only music lovers but families that enjoy camping.
Foster your child's love of the outdoors while enjoying yourself in the beautiful forests of Naeba.
Immerse yourself in the beauty of Mother Nature
Be moved and refreshed while experiencing the beauty of the environment surrounding Fuji Rock.
1.Dynamic Nature
Feel the bright sun of summer or be soaked in a downpour. Witness the beauty of sunlight filtering through the trees or be refreshed by the smell of the forest while walking through it on a misty morning. Brilliant starlight, miraculous sunsets, the song of wild birds, and friendly dragonflies… You may only be spending three days there but Naeba is overflowing with the beauty of nature for all to enjoy. Feel the dynamics of nature as you watch performances, move around the festival, or even just when you're relaxing in your tent.
2.Walk the Boardwalk
The boardwalk connecting the main stages of the festival stretches for 2 kilometers. See the diversity of life in Naeba as you walk its length and enjoy the decorative lighting in the evenings. Don't miss out on the sounds of the babbling river and the wind rushing through the trees as you bask in negative ions on a barrier-free stroll through the forest.
3.Play in the River
Things get get heated at Fuji Rock between the sunshine and powerful performances. Cool down at the riverside area near Tokoro Tengoku. Dip your feet in the cool stream and take a moment to relax both your body and mind. The laughter of children as they play in the river is just another great part of the festival experience at Fuji Rock.
4.Take a ride on the Dragondola
The Dragondola is the longest gondola in Japan with a trip to the summit taking a full 25 minutes. The terrain is quite rugged and the gondola can get up to fairly fast speeds making it a treat for kids. Look down on the festival from on high as you make your way to the relaxing space at the summit full of fun relaxing activities for both children and adults.
The next installment of this series will feature "Enjoying the Festival Along with Nature" and introduce clothing, food and shelter at the festival that lets you truly enjoy the nature of Naeba.
Fuji Rock's efforts for the future of Naeba's forests…