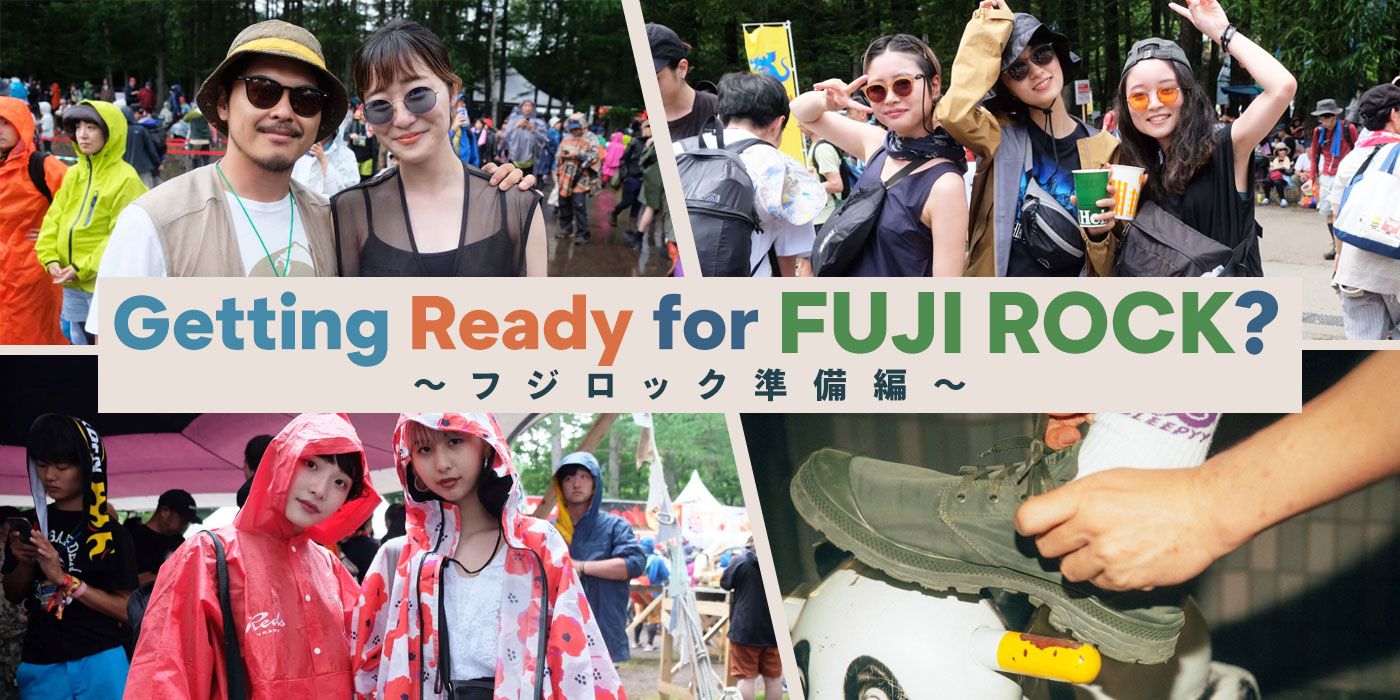 2023.05.26
A Guide to Clothing & What to Bring to Fuji Rock Festival
Getting Ready for FUJI ROCK?
〜Preparing for Fuji Rock〜
Must-see for first-time Fuji Rockers!
"What should I bring with me to Fuji Rock?"
"What should I be careful about when choosing attire for the festival?"
・Fuji Rock Festival is held in the mountains at an altitude of 1,000 meters.
・Temperatures can differ greatly between day and night.
・Weather at the festival can change suddenly.
These three points can help you decide what to bring and wear!
Festival must-have items, nice-to-have items, and advice on coordinating clothing all in one easy to understand page. Follow the checklist and be prepared to have the best experience at Fuji Rock!
Share with #GettingreadyforFujiRock and make the most of preparing for the festival!
Share your excitement, concerns, and everything else with the hashtag #GettingreadyforFujiRock with both veteran Fuji Rockers and first-time festival goers!
Check this hashtag to gather information and get answers to your questions about the festival and prepare for Fuji Rock in July along with all of us!
We will also be using the hashtag #GettingreadyforFujiRock to announce information about the festival.
Be sure to post your excitement about getting ready for the festival too!
The weather at Fuji Rock can change suddenly and temperatures can differ widely so clothing for all climates are best.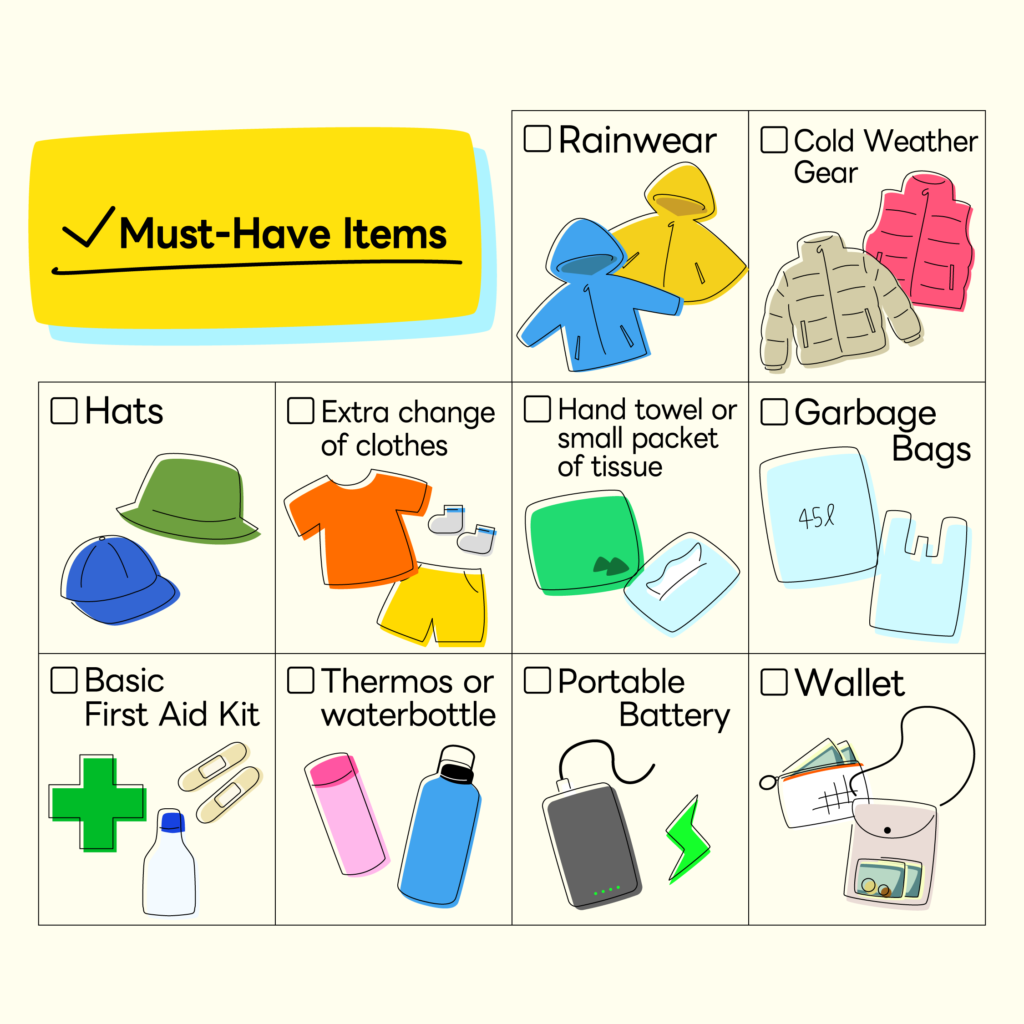 Rainwear


◎ Durable breathable waterproof items are best.

Cold Weather Gear


◎ Nights on the mountain are cold. Lightweight compact jackets such as ultra lightweight down jackets are best.

Hats


◎ A hat will protect you from sunburns and heat stroke. Waterproof hats are best for sudden rain showers.

Extra change of clothes


◎ For when you sweat or get caught in the rain…

Hand towel or small packet of tissue


◎ One of those things that people forget to bring to Fuji Rock and are impossible to find at the festival. Wet tissues are great too.

Garbage Bags


◎ Garbage bags can be used to protect your belongings when it rains and are generally convenient to have on hand. Good to have a couple sizes.

Basic First Aid Kit


◎ Bandages, antiseptic, and don't forget to include insect repellent and anti-itch cream.

Thermos or waterbottle


◎ Hydrate to avoid heat stroke. Thermo-bottles that keep liquids hot or cold are best.

Portable Battery


◎ Bring a partable battery. The bigger the better.

Wallet
◎ In case you can't use e-payment systems or in case of emergency. Small, waterproof types are best.
*E-payment systems for overseas cell phones cannot be used at the festival.

Be prepared for sudden rain・・・ Waterproof Baggy or Ziplock Bags
Take a break and keep up your energy・・・Foldable Camping Chair(*Must be foldable and portable)
For night at the camping area or around the festival・・・Flashlight or Headlamp
Good for sunny days・・・Body wipes or Cold compresses
Self care・・・Salt tablets and other precautions against heat stroke
For chilly weather and protection from sunburn・・・Lightweight shawl or scarf, face towel, etc.
Protect your eyes from harmful UV and dust with・・・A mask or sunglasses
Keeping your hands clean・・・Sanitary wipes or Alcohol wipes
Protect yourself against the sun with・・・Sunscreen lotion
Comfortable clothing that can be worn in hot or cold or rainy weather is best.
Fashion Advice
Comfortable Shoes


◎ Well worn shoes with good grip such as sneakers and hiking shoes or boots are best. The festival is spread out over a large area and on a mountain so new shoes will be painful!

Rainwear


◎ Durable waterproof but breathable jackets are best. Umbrellas are not allowed at the festival.

Hats


◎ Waterproof hats with a large brim offer the best protection from the sun and rain.

Shawls or Scarves


◎ Shawls or scarves are perfect for both protecting yourself from the sun and as an additional layer when cold.

Bags


◎ Backpacks or shoulderbags are best. Don't forget to spray it with waterproofing spray!

Innerwear or T-shirts


◎ Undershirts made with quick drying materials are best. Carry one t-shirt or long sleeve shirt in your bag just in case.