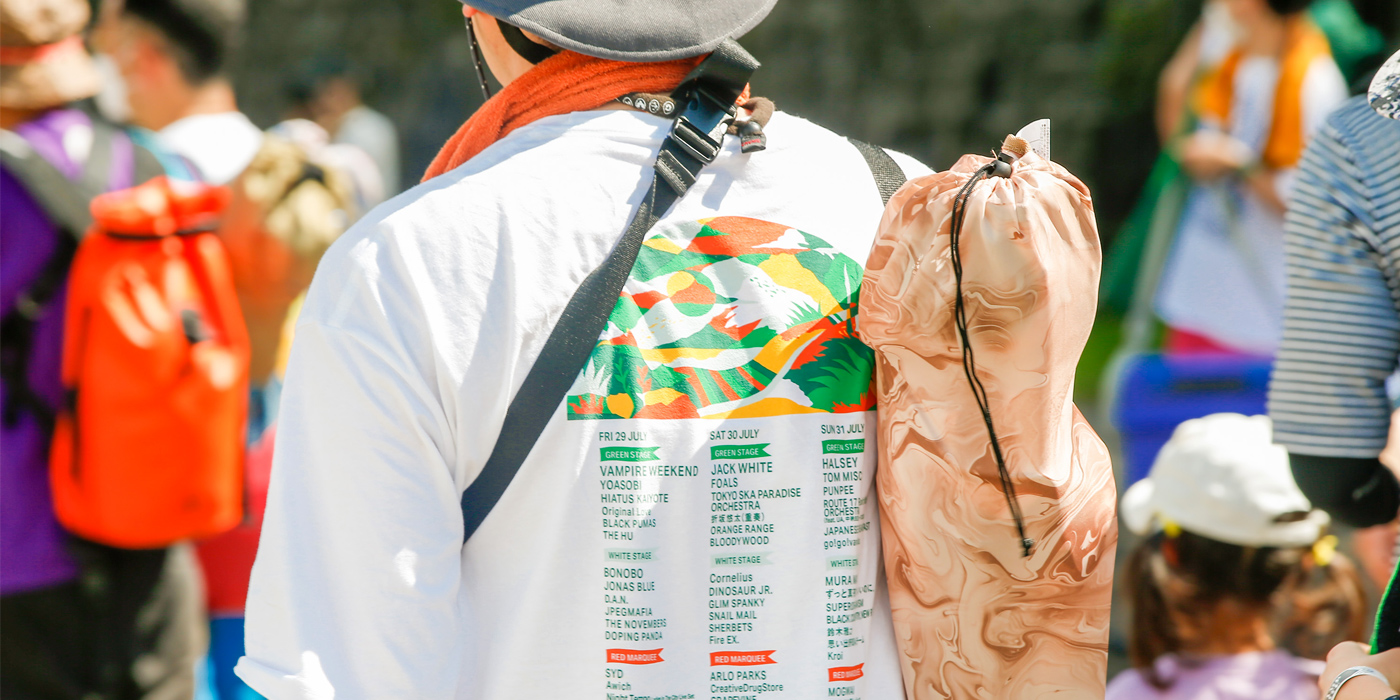 2023.06.02
MADE-TO-ORDER MERCHANDISE RETURNING DUE TO POPULAR DEMAND!
Popular Beams collaboration items, line up t-shirt, and more, available now!
Returning due to popular demand, Fuji Rock '23 made-to-order merchandise website is back on the e+ shop
special site!
In addition to the items popular during the last round of orders, popular festival merchandise items
such as the t-shirts listing performing artists and the Beams and HitsujiBungaku collab items are available for
order!
Orders will be fulfilled in time for the festival.
Order Period:June 2nd to June 15th
Delivery planned for mid-July
Some items limited and may sell out during order period
Check order website for details
FUJI ROCK '23 (Performing Artist Line Up Tee)
Designed by asuka
watanabe

The line up tee is one of the most popular merchandise items every year. The
simple design has this year's performing artists on the back and the logo on the front. Perfect for
wearing at the festival and everyday!
*Performing artists to be listed on back.

Colors:NATURAL / BLACK / LIGHT
PURPLE
Sizes:S / M / L / XL / XXL
Price:¥4,500(tax
incl.)

FUJI ROCK '23 NEW ROCK T-shirt (Performing Artist Line
Up)
Designed by Super me Inc.

New music for a new era!
*Performing artists to be listed on back.

Colors:SUMI / VANILLA WHITE /
BANANA
Sizes:S / M / L / XL / XXL
Price:¥4,500(tax
incl.)

FUJI ROCK '23 Monkey T Shirt (Performing Artist Line
Up)
Designed by HD

Let's Make Together! Let's make Fuji Rock the best together again this
year!
*Performing artists to be listed on back.

Colors:WHITE / ASH / LIGHT
OLIVE
Sizes:S / M / L / XL /XXL
Price:¥4,500(tax incl.)

HitsujiBungaku x FUJI ROCK '23 T shirt

HitsujiBungaku, who are performing at this year's Fuji Rock, and the festival
collaborate on official merchandise!

Colors:WHITE / BLACK
Sizes:S / M / L /
XL
Price:¥4,000(tax incl.)

FUJI ROCK '23 Quick Dry T-Shirt

This quick drying t-shirt is sure to come in handy at the festival. Featuring
1.5 times the breathability of cotton, the shirt is perfect for both rain or shine! Featuring
oversized sizes this year!

Colors:WHITE / BLACK / KHAKI
Sizes:S /
M / L / XL
Price:¥4,000(tax incl.)

FUJI ROCK '23 MISTIC TEE
Designed by MORI YUMI (StyleWars
Tokyo)

〜The Story of Night in Naeba Where a Portal to Another Dimension
Opens〜
Welcome to a scifi world of Fuji Rock Festival?

Colors:BLACK
Sizes:S / M / L / XL /
XXL
Price:¥4,400(tax incl.)

FUJI ROCK '23 「Sunrise Serenade T-Shirt」
Designed by Sayuri
Nishikubo

「With gratitude for music in our lives」

Colors:WHITE / BLACK
Sizes:S / M / L /
XL / XXL
Price:¥4,000(tax incl.)

FUJI ROCK FESTIVAL '23 × BEAMS T-Shirt (10 variations)

The popular Beams collaboration t-shirts are available! Ten unique variations
feature various artists and designers.

Price:¥4,950 (tax incl.)

FUJI ROCK FESTIVAL 2023×COLUMBIA

The popular collaboration with Columbia features a design by the artist Yu
Nagaba this year!

Colors:SHARK / SEA SALT / PURPLE
ASTER
Sizes:S / M / L / XL
Price:¥5,500 (tax incl.)

FUJI ROCK '23 HAT

Simple design features the festival mountain logo and pattern on bill.
Adjustable lanyard can be detached.

Colors:WHITE /
OLIVE
Sizes:Free(Adjustable / detachable
lanyard)
Price:¥3,850 (tax incl.)

FUJI ROCK '23 Tote

Available in three colors, this durable canvas bag can handle heavy items.
Match with this year's hat and cap.

Colors:NTURAL / BLACK /
GREEN
Sizes:37cm high / 36cm wide / 12cm deep / Handle:
47cm
Price:¥2,000(tax incl.)

FUJI ROCK '23 Onsen Towel

The onsen towel has become one of the most popular merchandise items of the
festival. Perfect for the bath or sauna! Also makes a great gift!

Sizes:約85cm×36cm
Price:¥550(tax incl.)

FUJI ROCK Original Tray

This original Fuji Rock tray is perfect for eating outdoors. Carry food and
drink in one hand! Comes with a carabiner to attach to your bag or belt for easy carrying.

Sizes:26×26×2.5 (cm)
Price:¥1,500 (tax
incl.)