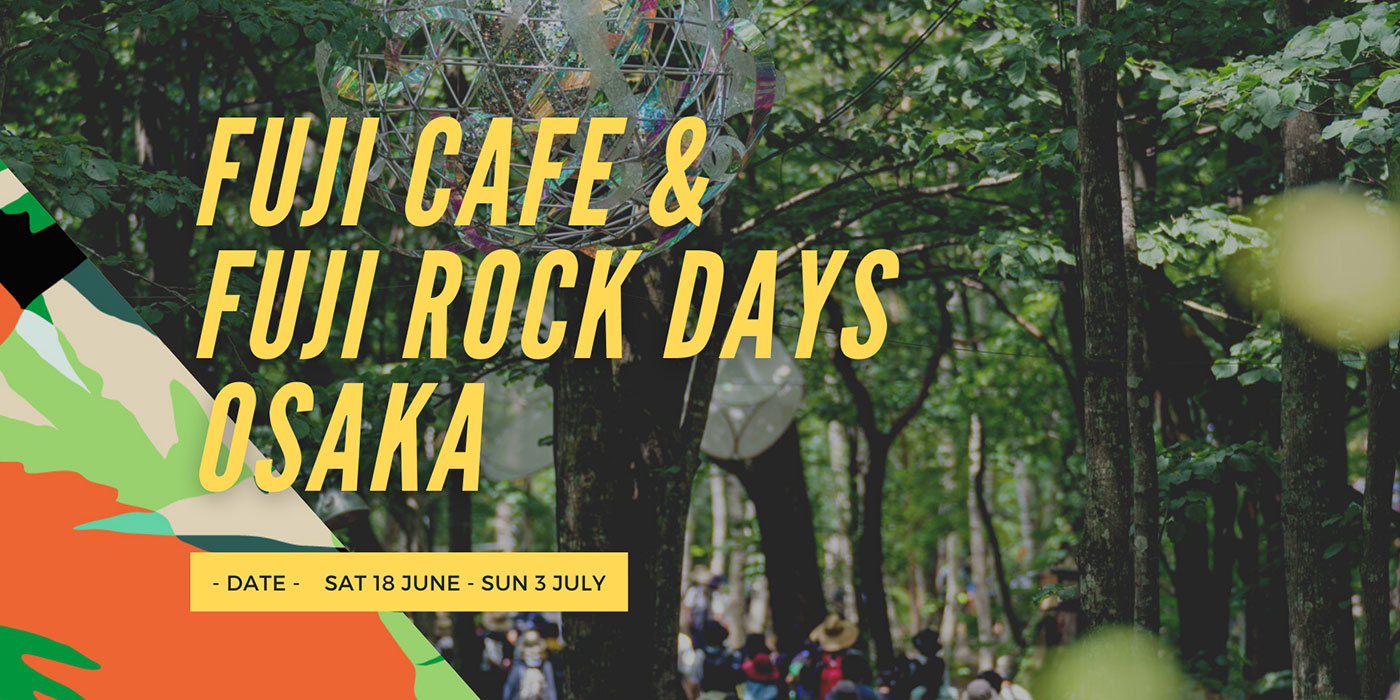 2022.06.03
PRE-FESTIVAL EVENT, FUJI CAFÉ & FUJI ROCK DAYS COMING TO OSAKA!
Let's go-to Fuji Rock from Kansai! Check out the pre-festival event, "Fuji Rock Days" and experience the festival early!
Experience the festival mood this year at Cafe Charbon in Kitahorie as Fuji Rock takes over!
Check out rare footage from past Fuji Rock's, photo exhibition and more.
This year's merchandise will also be on display! This is the only place in Kansai where its possible to check out festival goods!
Don't miss out on popular menu items from the festival's Oasis area such as "Tororo Rice" and "Mochi Pork" along with the iconic Fuji Rock infinity beer!? Heineken will be on draft at the only place in Kansai to get a taste of Fuji Rock ahead of the festival!
Festival tickets will be available for purchase at the Fuji Cafe for three days; Saturday June 18th, Saturday July 2nd and Sunday July 3rd.
And don't forget to enter the popular lottery to win great prizes like a "Naeba Prince Lodging Voucher", "Official Tour Bus Ticket" and more!
Festival staff will be there to answer all your questions about how to get to the festival, which tickets to purchase, etc. If you still haven't decided whether to go or not, this is your chance to ask about anything that you are unsure or worried about.
Why not enjoy the Fuji Rock atmosphere while in the heart of Kansai? This event is sure to be fun for everyone from those who have already decided to go to the festival, those who are not sure yet, or those who have questions. Come one come all!
FUJI CAFÉ & FUJI ROCK DAYS 〜OSAKA〜
FUJI CAFE
Open for limited period from Sat June 18th to Sun July 3rd.
Open: 11:30am to 9:00pm
(Kitchen closes: 8pm, Bar closes 8:30pm)

Price
Free Entry
*Minimum 1 drink or food order required at Café Charbon

Special Fuji Rock '22 Sticker Present for all attendees!
In case of over-crowding, seating will be limited to 90 minutes.

Event Details

Showing of Past Fuji Rock Footage
Rare footage of performances from past festivals will be shown on screen. (Within above operating hours)
Toru Miyachi Fuji Rock Photo Exhibition
Exhibition of photos by head of Suteki Kobo, Mr. Toru Miyachi
▸ sutekifactory.com
FUJI ROCK ARCHIVE
Exhibition featuring past aticles, pamphlets, etc., of the festival.
Official Merchandise Exhibition
Don't miss this one and only chance in Kansai to physically see this year's official Fuji Rock merchandise before purchasing! (*Not available for purchase at exhibition. Please visit official online shop Green on Red to purchase.)
FOOD & DRINK

Popular menu items from the festival such as "Tororo Rice" and "Mochi Pork" available!
Infinity beer! All you can drink Heineken for 1 hour! (¥1,000 per hour)
FUJI ROCK DAYS
Sat June 18th, Sat July 2nd, Sun July 3rd
FUJI ROCK '22 TICKETS

Festival Entry Tickets (1 Day, 2 Day, 3 Day)
Campsite Ticket
Parking Ticket (1 Day, 2 Day, 3 Day)
Wristbands will be provided in lieu of paper tickets.
Cash or credit cards accepted.

Grand Lottery
Enter the Fuji Rock Grand Lottery for a chance to win fabulous prizes like a room at the Naeba Prince hotel, ticket for an official festival tour bus, outdoor goods, or merchandise from past Fuji Rocks.

Lottery Entry
Those who purchase festival tickets at the Fuji Rock Days event on June 18th, July 2nd or July 3rd, or those who are in possession of tickets to this year's Fuji Rock may enter the lottery.

My First Fuji Rock ~How To Fuji Rock~
If you're thinking about going to Fuji Rock this year but aren't sure about how to get tickets or how to get there, come visit festival staff during the event and get answers to all your questions about the festival!