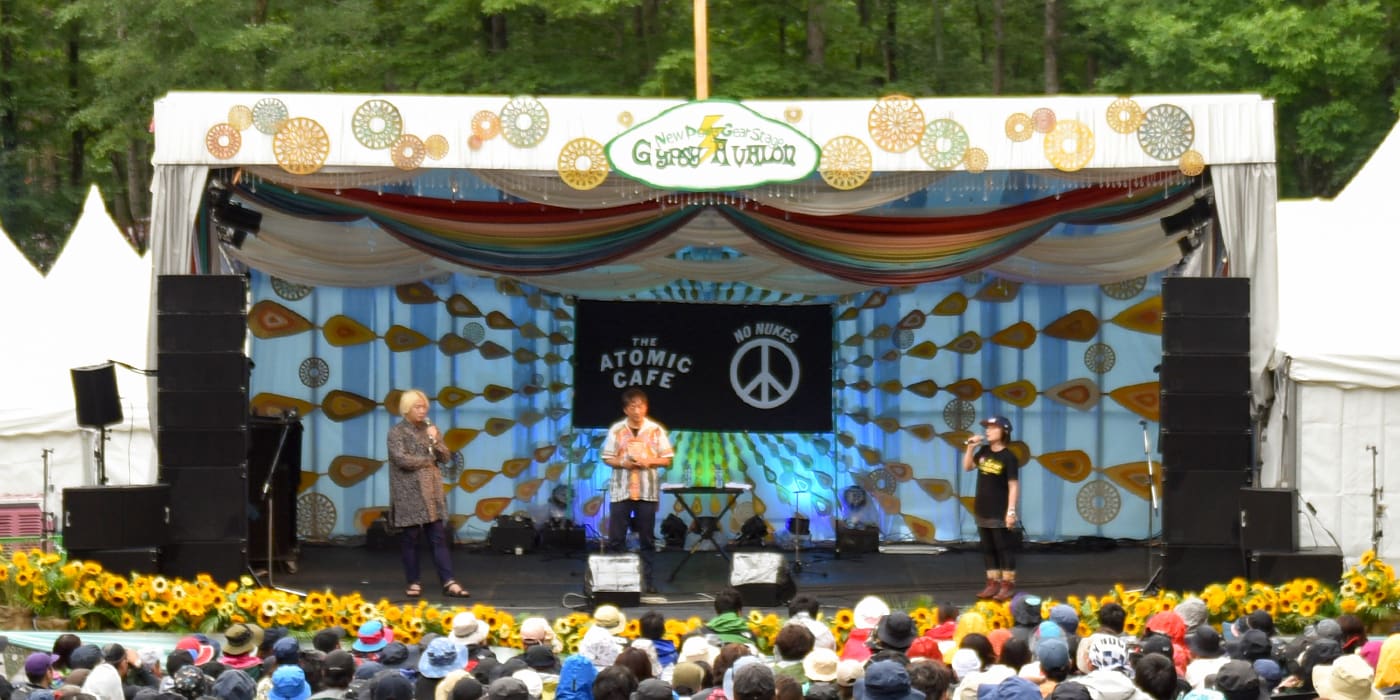 2023.06.16
THE ATOMIC CAFE TO BE HELD AT GYPSY AVALON
AS PART OF FUJI ROCK'S EFFORTS WORKING ON SOCIETAL ISSUES
ATOMIC CAFÉ TO BE HELD AT NEW POWER GEAR FIELD/GYPSY AVALON
Since its inception in 1997, Fuji Rock has aimed for a "symbiosis with nature" and has provided an opportunity for people to think about the natural environment and social issues.
The event has created an environment to introduce various social activities and deliver messages, through stage appeals by NGO groups considering the environment, peace, human rights, etc., opening the NGO Village, as well as promoting energy conversion and coexistence with nature through the introduction and practice of clean energy such as biodiesel fuel and solar power generation within the venue.
In response to the accident at TEPCO's Fukushima Daiichi Nuclear Power Plant in 2011, Fuji Rock has offered a portion of the NGO Village and Gypsy Avalon stages at the venue to the Atomic Cafe, an event that has been promoting the elimination of nuclear weapons and the abandonment of nuclear energy from the 1980s, to support the movement to consider "social issues."
Atomic Cafe 2023
This year, again at Gypsy Avalon, there will be three days of talks and live performances, each with its own theme.
7/28(Fri)
Theme: Climate Crisis and Nuclear Power
Following the passage of the GX Power Policy, which allows nuclear power plants to operate "beyond 60 years," Kenichi Oshima, chairman of the Citizens Commission on Nuclear Energy, and Toshiki Abe, president of General Incorporated Association Ridilover will discuss "Whether nuclear power is effective in the climate crisis." The live performance is organized in collaboration with Climate Live Japan, which takes on the issue of the climate crisis, and will feature Akkogorilla.
7/29(Sat)
Theme: Climate Crisis and Environmental Issues
Eri, an environmental activist and the owner of the vintage clothing store "DEPT", and Joe Yokomizo, writer and editor-in-chief of "Kiminitou" will talk about the various issues happening to the earth's environment. For the live performance, 40 years after the legendary performance of his father Yutaka Ozaki at The Atomic Cafe in 1984, Yuya Ozaki will be invited to perform.
7/30(Sun)
Theme: Society and Technology
Sociologist Shinji Miyadai and Joe Yokomizo will be invited to talk about the issue of "Society and technology". In recent years, the evolution of AI, including ChatGPT, continues unabated. They will talk about how we should deal with technology and its impact on our society. The live performance will be by Hiroko Sebu, film music composer for films such as "Every Day a Good Day," "Love At Least," "The Forest of Wool and Steel," and "River's Edge." She has participated in live performances as a chorus member for Chatmonchy, Kururi, plenty, Mr. Children, and others.
Daisuke Tsuda is the overall MC and will appear on the talk stage for all three days.
"Gypsy Avalon" STAGE
7/28(Fri)"Climate Crisis and Nuclear Power"

MC:Daisuke Tsuda
TALK:Kenichi Oshima (Chairman of The Citizens Commission on Nuclear Energy), Toshiki Abe (President of General Incorporated Association Ridilover)
LIVE:Akkogorilla (Collaborative project with Climate Live Japan)

7/29(Sat)"Climate Crisis and Environmental Issues"

MC:Daisuke Tsuda
TALK:eri(Owner of DEPT/designer/environmental activist), Joe Yokomizo (Kiminitou editor-in-cheif/writer)
LIVE:Yuya Ozaki

7/30(Sun)"Society and Technology"

MC:Daisuke Tsuda
TALK:Shinji Miyadai (Sociologist), Joe Yokomizo (Kiminitou editor-in-chief/writer)
LIVE:Hiroko Sebu
The Atomic Café
In 1957, the Campaign for Nuclear Disarmament (CND) was established in the United Kingdom, and the peace symbol, which looks like a bird's foot, was used as an anti-nuclear symbol. Later, in 1979, a concert with NO NUKES (anti-nuclear weapons and anti-nuclear energy) as the core message was held featuring Jackson Browne and Bruce Springsteen, and in the 1980s, the symbol peace mark was displayed on stage at the Glastonbury Festival in the U.K., and the film "The Atomic Cafe," a compilation of propagandistic video clips about nuclear weapons and nuclear energy was released in the United States, raising awareness of anti-nuclear and anti-nuclear issues worldwide. In 1984, volunteers from the music industry in Japan gathered to hold an anti-nuclear concert, "The Atomic Cafe Festival," at Hibiya Yaon. Shogo Hamada, Yutaka Ozaki, and others performed to raise awareness of nuclear weapons and nuclear energy issues. Two years later, in 1986, when a major nuclear accident occurred in Chornobyl, the group began holding not only concerts but also talk events to convey the risks posed by nuclear energy. The Atomic Cafe had a hiatus after that but returned to Fuji Rock in 2011.
Since then, they have been holding talks and live events every year at Gypsy Avalon, focusing on issues such as the abandonment of nuclear power plants, the shift to sustainable energy, and other various social issues regarding the environment and peace.