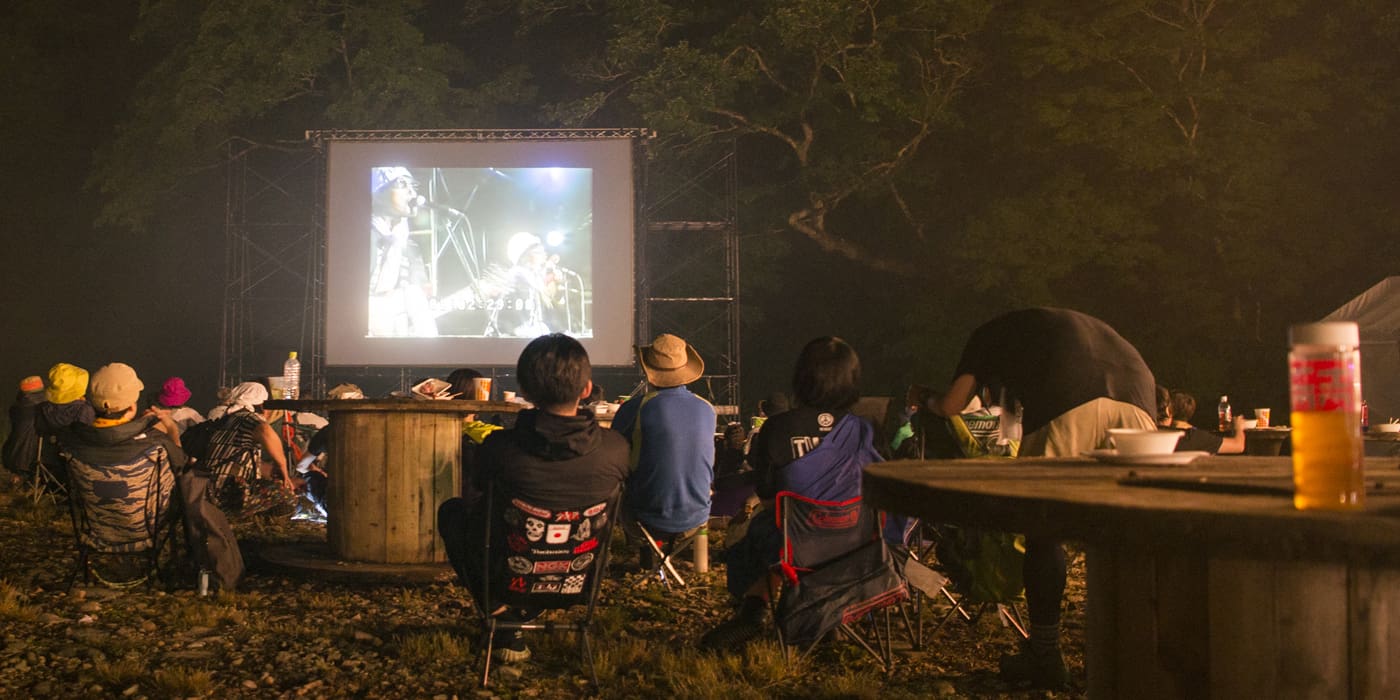 2023.06.30
OUTDOOR THEATER "FUJI THEATER" THIS YEAR'S SCREENING LINE UP!!
Outdoor theater Fuji Theater. This year's screening location will be back at the Tokoro Tengoku area!
Please enjoy the film choices unique to Fuji Rock under the night sky, in the great nature surrounded by trees and rivers.
"YELLOW MAGIC ORCHESTRA live at FRF'11"
(7/28(Fri) Scheduled from around 23:45)
Rare performance footage from their appearance at Fuji Rock 2011 will be screened uncut for one night only.
2011 was the year of the Great East Japan Earthquake, an event that brought great change in our daily lives and circumstances. Fuji Rock presents a special one-time screening of the entire video of YMO's amazing performance at the GREEN STAGE on July 31 (Sun.).
In the immediate aftermath of the earthquake, Haruomi Hosono, Yukihiro Takahashi, and Ryuichi Sakamoto stood on the NGO Village Avalon Stage and delivered a message in a talk session in support of the "Atomic Cafe," a movement held at Fuji Rock to promote the shift to a society that focuses on natural energy.
Yukihiro Takahashi and Ryuichi Sakamoto.
Running time: 70 min
"The United States vs. Billie Holiday"
(7/28(Fri)Scheduled from around 25:00)
©2021 BILLIE HOLIDAY FILMS,LLC
Billie Holiday became a target of the FBI after singing "Strange Fruit," a song that protests against racism. What will become of the confrontation between Billie who refuses to stop singing and the United States of America?
Winner of the 78th Golden Globe Awards for Best Actress! (Andra Day)
The1940s, the dawn of the Civil Rights Movement, which called for the abolition of racial discrimination. The FBI, ordered by the government to nip the bud of rebellion, targets the immensely popular black jazz singer Billie Holiday. The FBI sends Jimmy Fletcher, a black FBI agent undercover considering the danger of the hit song, "Strange Fruit," thinking it might incite the movement. But the more adversity she faces, the more Billie's stage presence shines brightly, transcending differences in color and status to captivate everyone. As Jimmy also becomes enamored by her the FBI sets a trap. What conspiracy awaits?
Running time: 131 min.
Related websites
▸ Official website
"It's Tough Being a Man-Tora-san's Lovesick" (Series No.13)"
(7/29(Sat) Scheduled from around 23:30)
©1974 松竹株式会社
Screening of the popular film starring Sayuri Yoshinaga, who stars in Yoji Yamada's latest film "Mom, Is That You?" to be released in September 2023, as the first Heroine in the series in two years!
Tora-san" returns to Fuji Theater again this year! Don't miss out on the laughter and tears!
For the first time in two years, since the 9th film, "Tora-san's New Romance," Sayuri Yoshinaga makes an appearance as the love interest Utako.
Tora-san is delightedly rushing back from Onsenzu in Shimane Prefecture. Told that he may marry a local woman, President Tako and Sakura accompany him to Shimane, only to find that his wife-to-be Kinuyo's (Takada Toshie) missing husband, has returned. Disappointed, Tora-san continues his journey and by chance meets Utako again in Tsuwano. She is supposed to be happily married, but her husband, who was a potter, had passed away, and she is now living with her in-laws feeling out of place. Tora-san encourages her, and tells Utako to come back to his family's dumpling shop, Toraya in Shibamata, if anything happens and they part ways. After a while Utako arrives in Shibamata and…
Running time: 104 minutes
Related websites
▸ It's Tough Being a Man official website
▸ Official Twitter
▸ Official Instagram
"Crock of Gold: A Few Rounds with Shane MacGowan"
(7/29(Sat) Scheduled from around 25:15)
© The Gift Film Limited 2020
Shayne MacGowan (The Pogues) x Producer Johnny Depp x Director Julian Temple
Legendary singer's unprecedented punk documentary
Shayne MacGowan is the singer of The Pogues, the legendary band that created Irish Punk (Celtic music x Punk Rock) and is loved by many musicians. From the age of five, he fell into a hell of drinking, smoking, betting on horse racing, and drugs. When music saved his life he started the one and only The Pogues, and Shayne quickly became a star in the UK rock industry. As an immigrant, Shayne's songs about the harsh realities of life and sorrow brought tears to people's eyes. But the life of a heavy drinker and troublemaker is anything but simple…
Director of "Absolute Beginners" Julian Temple brings together rare archival footage and animations to bring Shayne's story to life. Bobby Gillespie and Johnny Depp themselves appear as interviewers. An unprecedented punk documentary that encourages our lives when it's not all roses!
Running time: 130 minutes
Related websites
▸ "Crock of Gold: A Few Rounds with Shane MacGowan" Official website