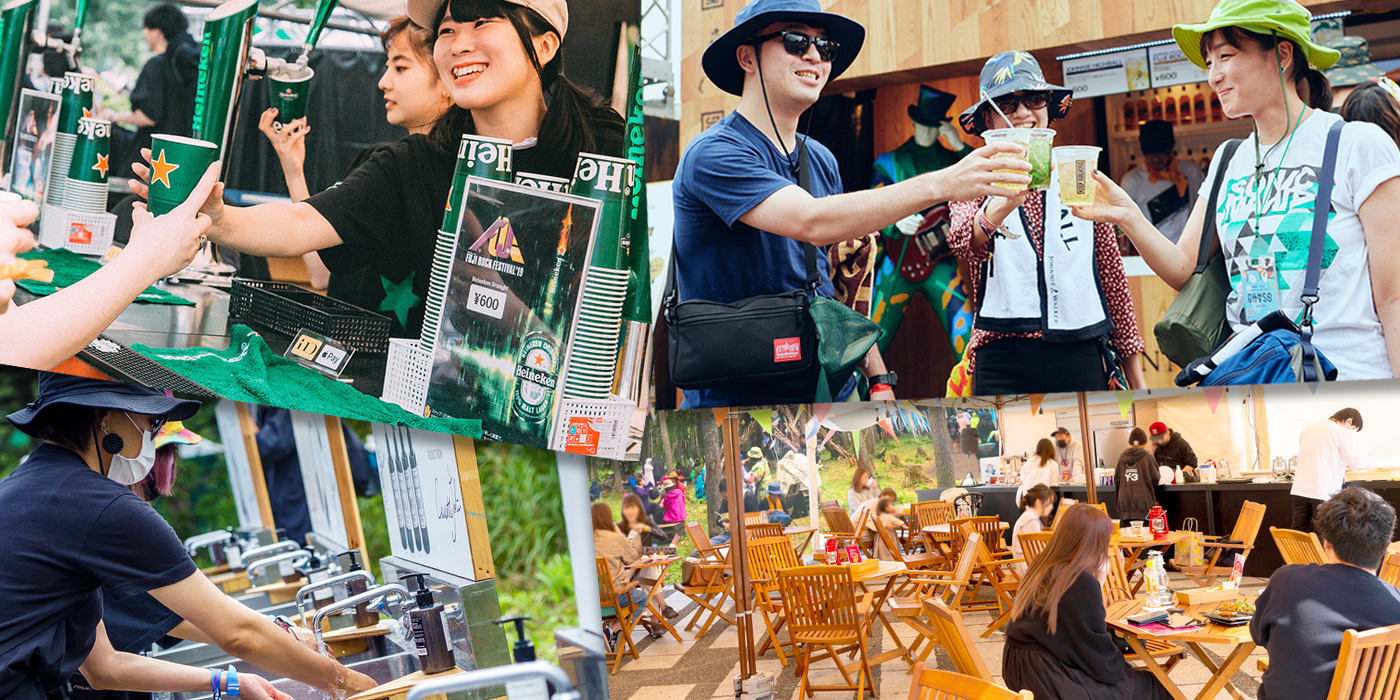 2022.07.15
HAVE MORE FUN AT FUJI ROCK!
There are various booths and attractions other than shows and food at Fuji Rock Festival. Here are some of the fun things to do in each area at Fuji Rock!
Outside Festival Entrance・YELLOW CLIFF
Jeep
Jeep's Parking Rescue squad is back at the festival!
Don't miss the live painting performance at Jeep's chill out space!
Google pixel
Featuring collaboration with ""Why Can't It Be Midnight All The Time"" (ずっと真夜中でいいのに。) Take photos with a Google Pixel camera to match the vibe of the artist's songs at this booth open only at night. Booth will offer charging stations during the day.
NIKE
Enjoy Fuji Rock along with Nike Outside! Featuring morning runs and Yoga meditation.
Niigata Sightseeing Fan Club
Check out the Niigata Sightseeing Fan Club's booth, ""Niice"" when you get to Naeba! Featuring raffle with great prizes!
Niigata Furusato-mura
Niigata is famous for many of its fine products available here for purchase. Don't forget to get some Omiyage from Niigata before leaving the festival! "
Campsite・PYRAMID GARDEN
CHUMS
CHUMS offers up some spicy foods only available here at the campsite.
LOGOS
Rent a LOGOS tent at the Pyramid Garden area, exclusive for tour bus users! (Reservations required. Limited numbers available.)"
OASIS
iichiko
Shochu Highballs! Enjoy a shita-machi favorite at Naeba.
JOHNNIE WALKER
Sip your Johnnie Walker highball and enter the lottery to win great prizes. Try and keep up with Johnnie Walker's Striding Man as he sets out into the forest!
Past GREEN STAGE
KEEN
Check out the Adventure Kids Program (reservations required), information about decreasing plastic waste or purchase your pair of Keen's Fuji Rock model sandles!
KiU
Featuring Ping Pong Drop game with proceeds going to charity! Enter the raffle to win great prizes and support the Fuji Rock Forest project at the same time!
TOWER RECORDS
Featuring sales of Tower Records original Fuji Rock t-shirts. Check out this year's designs.
ORANGE CAFÉ
BREWDOG
Craftbeer lovers Kanpai! Enjoy some relaxing downtime at the Orange Café.
CITROEN
Spend the entire day here at a relaxing lounge during the day and a DJ booth in the evening!
Other Areas
Causette.Joli
Relax to comfortable fragrances as you wash your hands! SimpleDay soaps will be placed at all hand washing sinks in the festival.
kao
Supporting festival audience with the theme of ""Making Life Beautiful"". Don't forget to frequently wash your hands and use sanitizer while at the Festival.
glo
Please use the smoking areas supported by glo when smoking. The festival is no-smoking outside of designated smoking areas.
Heineken
The green paper cups are back! Kanpai with a Heineken this year at Fuji Rock!
POCARI SWEAT
Keep yourself hydrated with Pocari Sweat!