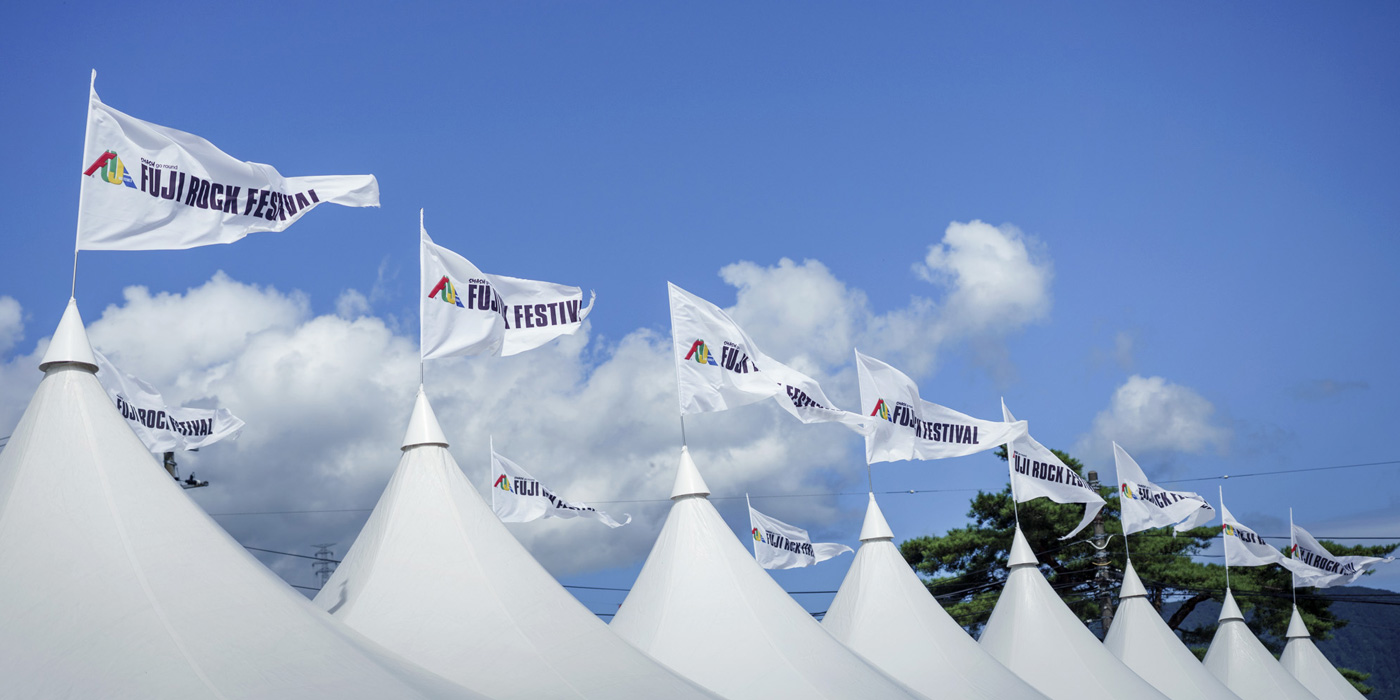 2022.07.26
INFORMATION FOR THOSE ATTENDING FUJI ROCK
Managing Your Health
Please be sure to be careful not only of infection but also take measures againts heat stroke and drop in temperature while at the festival.
We have all experienced wave after wave of infections during this pandemic and have learned how to prevent the spread of infection.
As the number of infections are once again on the rise, and to ensure that each and every one of us are able to enjoy Fuji Rock to the fullest, we ask that we all make use of the knowledge learned these past years to help stop the spread of infection.
Also, temperatures at Naeba are expected to rise during the daytime while temperatures can drop during the night and early morning. The difference in temperature can be extreme and weather can change suddenly on the mountain and it is expected to rain during the festival.
Keep hydrated and wear hats, wear breathable clothing and rain gear to prevent heat stroke and protect yourself against extreme weather while using masks, hand sanitizer and keeping social distances to help stop the spread of infection while you enjoy the festival at Naeba this year.
Advance Registration of the Official Fuji Rock App
The Official Fuji Rock App will be needed to enter the festival.
Please be sure to register all required information on the Official Fuji Rock App prior to arriving at the festival. Please show the app to festival staff when entering the festival.

Please be sure to download and install the official app and register all required information in 「来場登録」
All those entering the festival are required to register their information.
Shuttle Bus Schedule
Shuttle busses will operated routes between Echigoyuzawa Station & festival and Parking Lots & festival

Shuttle busses will operate between Echigoyuzawa Station and the festival, and each Parking Lot and the festival throughout the day during the festival. Please check departure and arrival times for the busses in advance.
Those lodging in the Tashiro / Mitsumata areas can also use the shuttle busses.
Payment of ¥1,000 is required when boarding the shuttle bus at Echigoyuzawa Station. Return trip is free of charge.
E-payment and cash payment is available.
Wristband Exchange
Tickets will be exchanged for wristbands at the festival.

Those who have received their wristbands in advance should put them on and enter the festival directly.
Those who have only received a paper ticket should proceed to the Wristband Exchange and exchange the ticket for a wristband prior to entering the festival.

Caution

If lost, wristbands will not be replaced under any circumstances.
Those without a valid wristband will be ejected from the festival.
Once removed, wristbands will be deemed invalid. Do not remove your wristband until you depart the festival.
Please note wristbands are required to use the shuttle bus when returning.
The ticket stub recieved when exchanging your ticket is "proof of purchase". Please be sure to safely store the ticket stub until the festival is finished.

Wristband Exchange Hours

12:00 Thursday July 28th ~ 5:00 Monday August 1st

How to Attach your Wristband


Be sure to tighten your wristband enough to keep it in place on your wrist.
Be sure to check that your wristband is securly attached to your wrist.
Lost & Found
Lost & Found at the festival

Friday July 29th to Sunday July 31st
Hours: 9:00~26:00
Location: Information Tent located in Oasis Area
Monday August 1st
Hours: 9:00~12:00
Location: Outer Campsite Gate

Lost & Found After the Festival

Applications for lost items will be accepted at the Minami Uonuma Police Station, Niigata Prefecture starting from 10:00 am Thursday August 4th
[Contact Info
Accounting Div., Minami Uonuma Police Station, Niigata Prefecture
TEL:025-770-0110(Weekdays: 9:30~17:30)
Items will be sorted until August 4th. Questions regarding lost items cannot be answered by phone so please refrain from calling the poice station.
Cashless Payment Services
All food stalls at the festival now accept cashless payment services.

Cash and credit card payment can be used at the official merchandise tents, artist goods tent and official shop Gan-Ban.

The following services can be used at the festival:

e-Payment Services
Kitaca / Suica / PASMO / TOICA / manaca / ICOCA / SUGOCA / nimoca /Hayakaken / iD / QUICPay / nanaco / Rakuten Edy / WAON
QR
PayPay

Charging e-Payment
Seven Bank ATM available on site. The following charging services are available:

Hours
11:00〜20:00 July 29th to July 31st
Available Services
Transportation company IC cards、nanaco、Rakuten Edy、PayPay
Those using other payment services should be sure to charge before coming to the festival.
Festival Pre-Party
FREE ENTRY FOR FESTIVAL PRE-PARTY ON JULY 28th!

12:00
・Parking Lots, Campsite Open
・Entrance Gate & Yellow Cliff Open
18:00
・Oasis Area Open
(Bon-Odori, Lottery, Fireworks & More)
20:00
・SPECIAL GIG @ RED MARQUEE (Closes 23:00)
*Performing artists will be announced that day
20:30
・Fuji Theater "Sunflower" showing @YELLOW CLIFF
24:00
・Close
Festival Facilities
Food at the Festival

Many stalls featuring food from around the world will be at the festival again this year.

NEW "Family Area"

Forget about lining up for food and order from a waiter at this new seated dining area at the Orange Café area! Perfect for families or people who just want to have a relaxing meal.

Merchandise Sales

@YELLOW CLIFF (8:00-21:00)
・FRF '22 Official Merchandise
・Artist Merchandise (GREEN、WHITE、RED MARQUEE performers)
@FIELD OF HEAVEN】 (11:30-21:30)
・Artist Merchandise (FIELD OF HEAVEN performers)
@OASIS AREA Official Shop Gan-Ban (9:00-24:00)
・Fuji Rock Collection, Collaboration items, artist CDs and records, etc.

Cash, credit cards, e-payment services accepted at the above locations.
Some merchandise items available for purchase at Tokoro Tengoku & Tour Bus Stop.
▸ Merchandise available at the festival
▸ Area Map
To Campsite Users
In addition to the free showers, campsite users can take a bath at the Naeba-no-Yu and Hiuchi-no-Yu onsen baths at the Naeba Prince Hotel.

Price: ¥1,000
Cash Only. Please note that e-payment services cannot be used.
No towels available. Please bring your own.
Please check operating hours for each day at the festival.