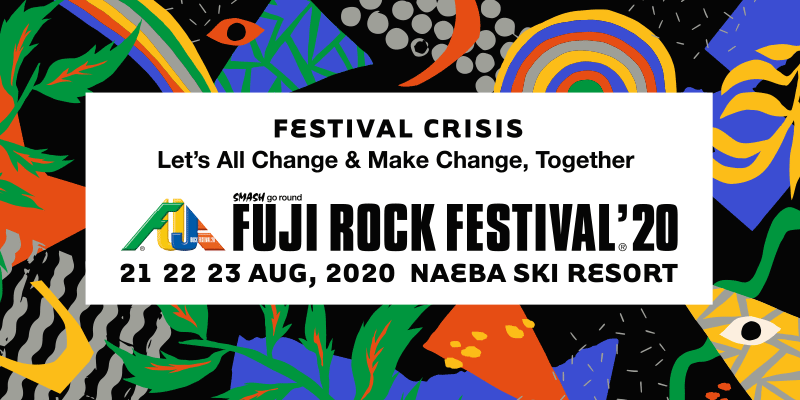 Held for the first time in the summer of 1997 amidst the sprawling nature at the foot of Mount Fuji with "symbiosis of nature and music" as its theme, Fuji Rock Festival is one of the largest outdoor music festivals in Japan.
However, the first year was hit by a large typhoon forcing the cancellation of the second day. Rather then a "symbiosis", the organizers and festival goers both yielded to the fury of nature and the inaugural year of the festival proved to be full of challenges. After being held in Tokyo at Toyosu in 1998, the festival made its move back to the ideal of a location surrounded by nature - its current home - Naeba Ski Resort in Niigata prefecture.
Having learned valuable lessons the first year, and through years of trial and error, Fuji Rock evolved, along with the passionate participants who were always ready to help make the festival a success, to become the first ever authentic rock festival in Japan. Through this process, the festival is not only more prepared for inclement weather, but has developed to include many other attractions, food stands and NGO booths. The festival has built a relationship of trust with the area surrounding the festival, growing to become a renowned summer tradition.
2016 saw the festival reach its 20th anniversary but along with the stability came some carelessness, made apparent by the increasing number of troubling incidents and amount of garbage within the festival.
Fuji Rock was often heralded by international media as the "cleanest festival in the world". That has been the catch phrase for this festival, built alongside its participants and was the remarkable result of the effort of each and every one of you, the festival goer.
《Against The Rules》& 《Excessive Enforcement》Bound to Rules ≠ Fuji Rock
Zero Garbage is Best. Infinite Manners is Best.
Umbrella Accidents, Saving a Spot, Consent to Smoking,《Individual Responsibility》
FESTIVAL CRISIS Let's All Change & Make Change, Together

「Taking Care of Yourself by Yourself」 「Helping Each Other」 「Respecting Nature」
Fuji Rock Festival can move to the next level if we all take a moment to think about what each of us can do to enjoy the festival comfortably and make the best summer memories possible by following these three guidelines.
ITEMS PROHIBITED IN THE FESTIVAL
Cross Type Folding Outdoor Camping Chairs
These types of folding chairs have been deemed dangerous as people carry them without folding and are a danger to others.

Umbrellas
The use of umbrellas is prohibitted in all areas of the festival including camp sites. They are a danger to other festival goers in low visibility and can be blown away in high winds cauzing a hazard.
Leisure sheets, parasols, and other items that block visibility or take large amounts of space.
《Items which are prohibitted》


Blue sheeting or leisure sheets which take up more room then being used by the number of people.
The use of tenting (outside of the camp site areas), parasols, sun shades, etc., and any other items that block the view of others is prohibitted.

These items cause congestion and are difficult to transport which means people tend to discard them becoming a hazard to others. (The saving of space is prohibitted throughout the festival.)
Sheeting, chairs, tents and other camp items which cannot be taken back with you.
Any and all sound recording devices.
Bottles and cans (carrying in coolers also prohibitted)
Fireworks and other explosives.
Any and all pets, items prohibitted by law and any other dangerous items are prohibitted at the festival.
Those who bring prohibitted items into the festival will be asked to remove them from the premises.
Please note that those who do not follow directions of festival staff will be ejected from the festival. Tickets will not be refunded in this case.
ACTIONS PROHIBITED AT THE FESTIVAL
Smoking while walking, smoking in congested areas, smoking in non-smoking areas
《Non-Smoking Areas》

Areas directly in front of the stages
in front of the PA, lighting booths at each stage
Kids Land
entire Red Marquee area (including outside of the tent)
Blue Galaxy
Orange Cafe
Crystal Palace Tent
Stoned Circle
Cafe de Paris
Priority Tents

Actions which harm others
Moshing, diving and other dangerous behaviour including transporting folding chairs without folding them up or otherwise transporting luggage in congested areas.
Leaving trash behind


Garbage should always be sorted and disposed of in the proper receptacle. The festival is held in a area surrounded by lush nature and volunteers commit their time to sorting and recycling the garbage at the festival. The garbage recycled at the festival is used as toilet paper and garbage bags at the festival the next year.

Leaving chairs or sheeting to save space.


Items left unattended for prolonged periods of time will be disposed of.
Saving large areas of space using sheeting or luggage is prohibitted.
Sheeting being left to save space and hindering others from entering the area has increased in recent years. Please be sure to carry items such as sheeting or chairs with you at all times in order to allow others the chance to rest or use the space.
(This applies to the Priority Rest Tents. Please be sure to take your belongings with you when departing an area.)

Use of chairs or sheeting in prohibitted areas
《Prohibited Areas》

Entire RED MARQUEE area (including outside of the tent).
Directly in front of the stages and in front of the PA, sound booth at each stage.
Be sure to follow the instructions of festival staff if told not to use sheeting or chairs in areas other than those listed above.

Prolonged use of and/or leaving belongings behind in Priority Rest Tents as well as use of facilities by those who are not appropriate.
The Priority Rest Tent is a temporary rest tent for the use of the following.
Those who are not one of the below should not use the tent. Please also keep use of the tent to 1 hour or less.
(Those with a Physical Disability Booklet may use the tent throughout the day.)

Persons with physical disability and attendants.
Pregnant women and attendants.
Small children and attendants.
*Attendants are limited to one person.

See FAQ for more details on use of Priority Rest Tent
>>FAQ <Those with children / Those with Physical Disability>
Video or sound recording of performing artists
Those who do not follow the directions of festival staff or cause harm to other festival goers will be forcibly ejected from the festival. Ticket(s) will not be refunded to those removed from the festival under any circumstances.
The Festival reserves the right to refuse entry to anyone who cannot follow the festival regulations or has bad festival manners.
Please note that the festival rules and regulations may change without prior notice at any time if deemed necessary.
Please also note that tickets will not be refunded after purchase. Please be sure to fully read and understand the festival rules and regulations before purchasing your tickets.
Starting Off