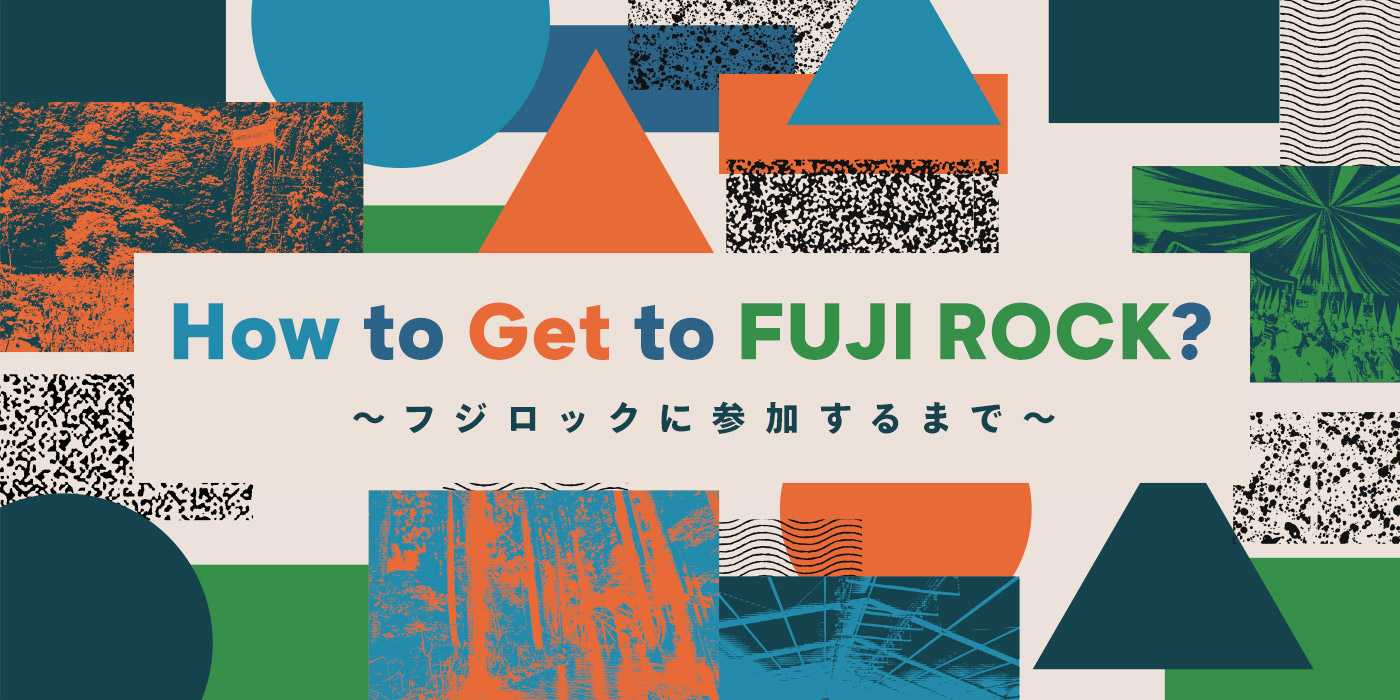 2023.03.03
A Beginners Guide to Fuji Rock
How to get to FUJI ROCK?
〜Fuji Rock From Start To Finish〜
For all Fuji Rock beginners!
"How do I get to Fuji Rock?" "Which ticket should I get?"
Here are some tips for making it just a little bit easier to come to Fuji Rock Festival!
The first step to getting to Fuji Rock is…
Here are four easy steps for what you need to enjoy Fuji Rock!
【How to get to FUJI ROCK】
①Decide what days you want to go.
②Decide how you're going to get there.
③Decide where you're going to stay.
④Get your tickets.

All the information you need for each step of the process all on one easy to understand page.
Must see for those aged 22 or younger! Lots of discount info included!
★Share with 「#フジロック準備中」
(Getting Ready for Fuji Rock) and be prepared! ★
Everybody from first time Fuji Rockers to veterans.
Use 「#フジロック準備中」 (Getting Ready for Fuji) and share all your worries, up-to-date info, and excitement!
Check this hashtag and find information you didn't know about the festival or solutions to problems you didn't know you had!
Let's all get ready for Naeba together!
The festival will be using the hashtag 「#フジロック準備中」 to share updated information and photos of preperations at Naeba.
Be sure to share your prep and excitement!
STEP 1:Check what day you want to go and plan your trip!
Want to go to the festival for one day? → Purchase a 1 Day Ticket for that day.

Want to go to the festival for two days? → Purchase 1 Day Tickets for each of the days you wish to be at the festival. (2 Day Tickets not available.)

Want to go to the festival for three days? → Purchase a 3 Day Ticket.
Detailed information about tickets and ticket types.
STEP 2:Decide how to get there!
Want to get to the festival by bus? → apply for an Official Tour Bus at the Tour Center

Travel directly to the festival from 19 cities across Japan.
Busses departing the festival late at night also available for those who wish to spend the entire day at the festival.

Drive yourself to the festival → Purchase a Parking Ticket (must also purchase 2 general admission tickets)

Going for one day: purchase 1 Day Parking Pass
Going for two days: Purchase 1 Day Parking Tickets for each of the 2 days.
Going for three days: purchase a 3 Day Parking Ticket(On-site parking area and parking areas adjacent to festival available.)

Go to the festival by train → Purchase your train ticket at a Shinkansen ticket counter.

Get off at JR East "Echigoyuzawa Station" and take the shuttle bus to the festival venue.
Further details about getting to Fuji Rock Festival here:
STEP 3:Decide where to sleep!
Camping? Purchase a Campsite Ticket.

Tent Rental Services now available for those who don't have tent equipment! https://en.fujirockfestival.com/news/0303c
Official Tour Bus users also have the choice of staying in the exclusive Pyramid Garden area. (Available via the Tour Center)
Tour Bus users aged 22 and younger can use the campsite for free. (Apply via the Tour Center)

For the Auto Camp 「MOON CARAVAN」 → Purchase a Moon Caraven Ticket

This facility is a four night auto camp site.
Vehicle entry and exit times are limited so vehicles cannot be removed from the area during the festival.

Stay at a hotel or minshuku? → Apply via the Tout Center

Includes 8 areas around the festival and also places a bit further away from the festival that include onsen baths, etc.
Tour Bus Plans that include lodging also available.

Day Trip

Have fun at the festival from when it opens at 9:00am to 5:00am the next day.
Official Tour Busses departing the festival at late hours also available.
Sleep it off in your car as long as you have a valid Parking Ticket.
Details about lodging in and around the festival
Please Note
The festival grounds are open from 9:00am to 5:00am each day.
People who have tickets for two or three days will be required to leave the festival once each day.
The purchase of only Parking Tickets is not available. Parking Tickets are available with purchase of two or more festival entry tickets.
1 Day Parking Tickets will be assigned to parking areas outside of the festival. Please note there is no way to get to the parking areas outside of the festival area at times when the shuttle bus services are not operating.
STEP 4:Now that you have a plan – Apply for your tickets!
Tips!

Overseas residents cannot apply for plans or tickets via the Official Tour Center.
Overseas residents should check the following services available from the Fuji Rock Offical Shop Gan-Ban:
【Direct Bus from Shinjuku to the Festival】
>>>https://ganban.net/?p=67208
【Tent Rental Services *Limited number】
>>>https://ganban.net/?p=67396
How to get to FUJI ROCK? 〜Discounts available for people 22 years old and younger〜
Under 22 Ticket

People who have graduated high school but are aged 22 or younger (by July 30th, 2023) can purchase 1 Day Tickets at a discounted price! (Number of tickets limited so get yours soon!)

Under 22 (Discounted) Camping Tickets

Official Tour Center offers free use of the campsite for those aged 22 and younger who purchase round trip bus tickets.

Food Coupon!

People aged 22 and younger who purchase a round trip bus ticket also receive a ¥1,000 coupon for the Naeba Shokudo cafetaria located in the Oasis area!