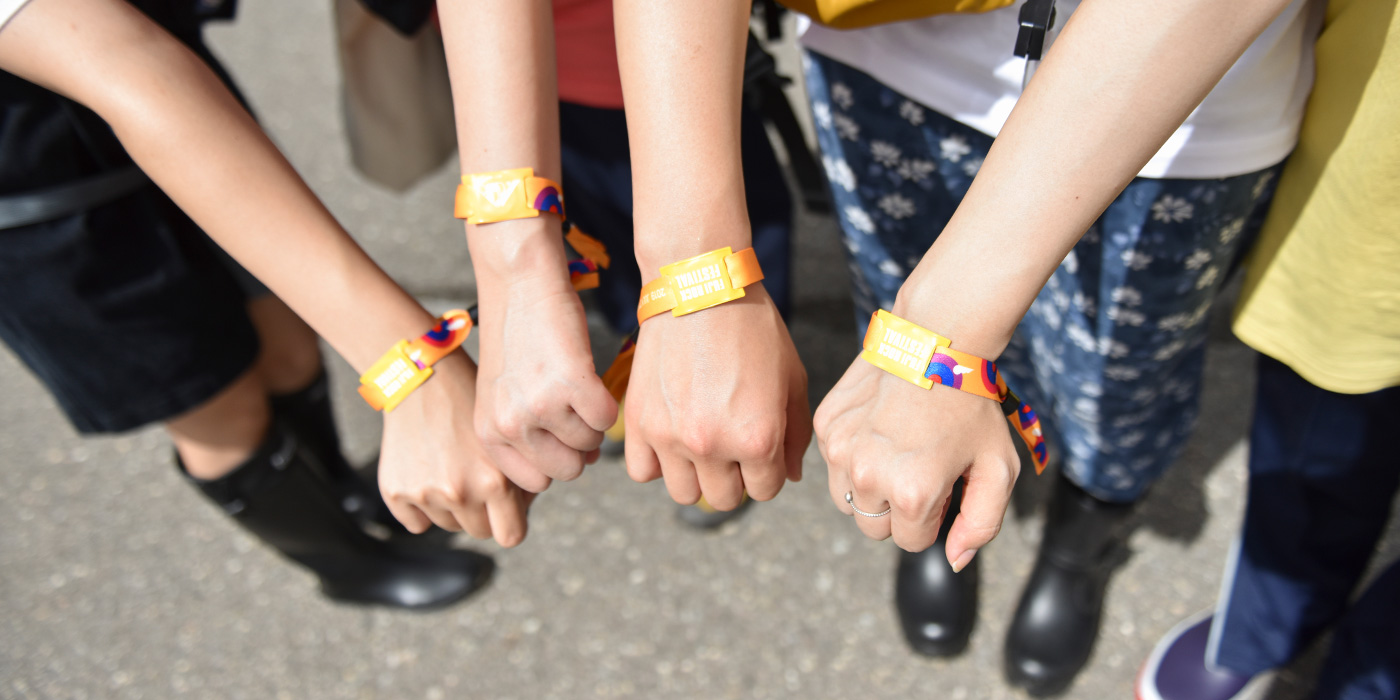 2021.04.16
ADVANCE TICKET SALES BEGIN!
All ticket types will be available for purchase at same rates as second round of advance sales which were paused in 2020.
Only limited number of tickets available during second round!

Information for 2020 Ticketholders
Festival entrance free for those 16 years of age or below.
Those aged 16 years or below and accompanied by an adult can enter the festival for free this year only. (Limited to 2021)
Receive Wristband in Advance!
Choose to receive your wristband in advance by post during checkout to get your wristband sent to you in advance.
Enter the festival directly upon arrival and don't waste time getting your ticket exchanged for a wristband.
Get your tickets now and save!
Purchase your tickets during advance ticketing and save on fees and postal charges! Please check with each ticket outlet for details.
Please also note the change to festival rules and regulations due to Covid-19. Be sure to read and understand the guidelines and rules and regulations before putchasing your tickets.
GUIDELINES FOR PREVENTION OF THE SPREAD OF COVID-19 AT THE FESTIVAL
Registering Personal Information
Everyone attending this year's Fuji Rock will be required to register personal information on the official Fuji Rock app which will be released at a later date. Those who are unable to download the app will be required to submit personal information upon arrival to the festival site.
The information registered via the app will be supplied to health officials in the event of infection and used for contact tracing. The information will be secured and appropriately managed by the organizers.
Those who refuse to register personal information will be refused entry to the festival. Tickets will not be refunded in these cases.
Ticket
Sales Schedule
1 Day Ticket
2 Day Ticket
3 Day Ticket
2nd Round Advance Ticketing (Limited No.)
Fri Apr 16 to Fri Jul 16
¥20,000
¥36,000
¥46,000
General Ticket Sales
Sat Jul 17
¥21,000
¥38,000
¥49,000
Parking Ticket
¥4,000 (per 1 vehicle / per 1 day *Available for 2 or more persons only)
Campsite Ticket
¥4,000 (Per 1 person / valid for duration of festival)
Moon Caravan Ticket
Ticket for use of Auto-Camp facility "Moon Caravan".
4 wheel vehicle ticket
¥15,000 (per 1 vehicle *Available for 2 or more persons)
+ Campsite Ticket: ¥4,000 (per 1 person)
+ Festival Ticket: requires 3 Day Ticket
2 wheel vehicle ticket
¥7,500 (per 1 vehicle *Available for 1 or more persons)
+ Campsite Ticket: ¥4,000 (per 1 person)
+ Festival Ticket: requires 3 Day Ticket
*Only a limited number of tickets are available during this time and will be sold on first come first served basis.
*Please be sure to read and understand all rules & regulations before purchasing tickets.
TIPS!Tips on how to purchase tickets
Tickets are available via ePlus, Ticket PIA, FRF Official Shop Gan-Ban and Lawson Ticket.

How to purchase just a parking ticket
The purchase of only parking tickets are available via the website or at the Gan-Ban storefront.
How to purchase just a festival ticket and campsite ticket
Festival entry tickets and campsite tickets are available at the above ticket outlets and via ticket machines at SevenEleven, Lawson and MiniStop.
How to purchase Moon Caravan tickets
Moon Caravan tickets are available only online via ePlus

For those using a official tour package
Festival tickets are available via the official tour center when purchasing a travel or lodging plan.