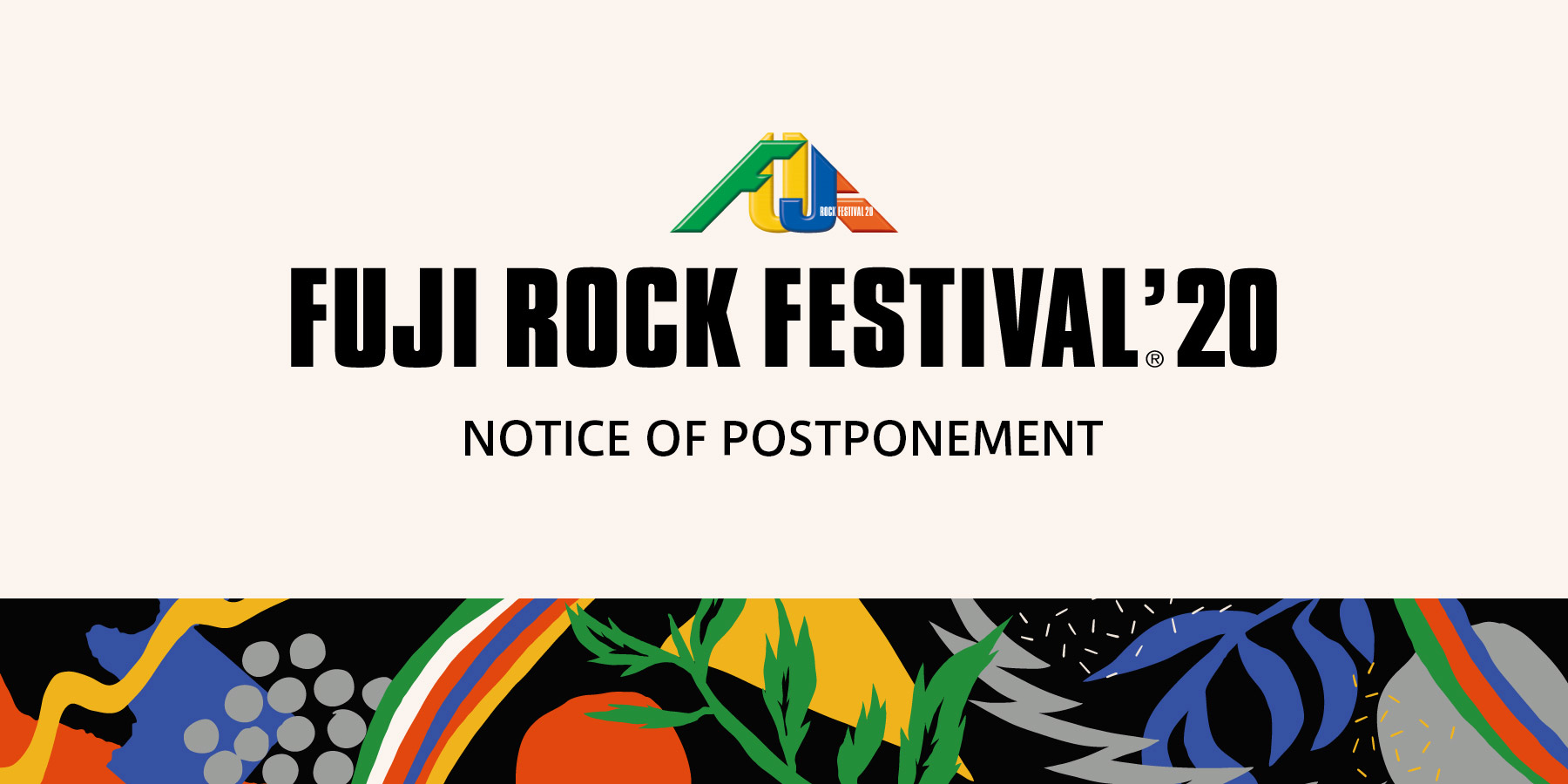 2020.06.05
FUJI ROCK FESTIVAL '20 NOTICE OF POSTPONEMENT
Taking into consideration the health and welfare of all involved with Fuji Rock Festival and to prevent the spread of COVID-19, we are abandoning this year's festival which was scheduled for August 21 st , 22 nd and 23 rd and postponing until August of 2021.
We had hoped the pandemic would abate in time to hold this summer's festival as scheduled and were moving forward with planning. Even with the state of emergency being lifted in Japan, the current situation worldwide has yet to normalize and strict immigration regulations are even now being further widened and enforced.
Furthermore, we cannot ignore this crisis which continues to endanger our
health and safety.
We apologize for taking so long to inform everyone of this decision but we were monitoring the situation both inside and outside of Japan and announcements from the government while discussing the possibility of holding this year's festival as planned.
Tickets purchased for this year's festival will be refunded or will also be valid for next year's festival so tickets should be saved in order to be used next year.
Details for ticket refunds will be announced soon.
We believe the day where health, safety and people's respect for each other will return soon and look forward to seeing you all at Naeba next August.
We also send our heartfelt condolences to every person effected by COVID-19. Furthermore, we pray for a quick end to the COVID-19 pandemic and
everyone's health and welfare.
Fuji Rock Festival Organizing Committee

First, I want to extend my condolences to all those who have lost their lives to the Coronavirus and send my heartfelt sympathies to everyone fighting the illness. I also express respect for the medical professionals and all people working on the front lines of the pandemic.
Since the Middle Ages the world has endured and overcome countless plagues and pandemics and I believe we can overcome this current situation as we have in the past.
This is my message to everyone who had looked forward to this year's Fuji Rock.
I am really sorry but I have decided not to hold Fuji Rock this year. Considering the health and safety of the band's that would perform, staff, personnel, and most of all, you the festival goers, we determined as the festival organizers that we are unable to hold this year's festival.
We discussed postponing the festival for several months but Naeba gets quite cold in the morning and evenings in September and begins to snow at the beginning of November with the snow remaining until April. It is a ski resort after all. Not to imitate the Olympics but we are postponing the festival until August of next year. The festival will be held on August 20th, 21st, and 22nd. That is 14 months from now. It's frustrating but I want you all to look forward to it.
For everyone who already purchased their tickets, thank you. I am truly grateful for the support you give Fuji Rock. Let's put twice the energy into enjoying the festival at Naeba next year. I promise this to you. We are also thinking of making a special memorial gift for those who save the tickets they purchased this year.
It is really unfortunate because I had hoped Fuji Rock would be a place for us to come together and share our courage and energy in these difficult times. Sorry.
Everybody please stay healthy.
The festival that would have been… Fuji Rock '20
Masahiro Hidaka
President, Smash Corp.

TICKET REFUND
*Festival ticket sales will be suspended.
*Refunds will be made available for tickets already purchased.
*Tickets will be valid for next year's festival so those planning to attend should save the ticket.
Details regarding tickets and refunds will be announced soon.
FUJI ROCK FESTIVAL '21
AUGUST 20TH, 21ST, 22ND, 2021
In the coming months, we will begin the process of bringing a more powerful Fuji Rock Festival with a new energy back next year with a fresh new energy.
We look forward to building a happy Fuji Rock with everyone once again. Thank you for your continued understanding and support.